Original HTC Micro USB Data Cable - Black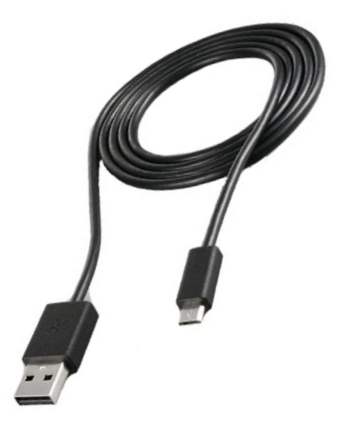 Price: $15.95
This USB cable for HTC phones gives rapid connection between your phone and a computer. The cable is durable, light-weight and portable for transport, wherever you need to go.

Using software distributed separately by HTC, you can then transfer any files, songs, addresses, numbers and notes safely and efficiently between your computer and your phone.
Essential for anyone who wants to get the most out of their phone, this data cable opens up many possibilities to organise and enrich your life.
Features:
Compatible with a range of HTC phones
Fast and efficient USB connection
Update music and transfer data
Compact and light-weight
Highly convenient
Easy, reliable connection to both the phone and the USB port
Note: This cable does not come with the software needed to transfer data using this cable
Length of the cable 1.25m.

Compatibility: HTC One X+ HTC One X Plus 4G VELOCITY HTC VELOCITY 4G WILDFIRE HTC DESIRE G7 GOOGLE NEXUS ONE HD MINI HD2 LEGEND ARIA ARIA A6380 ARIA G9 A6380 DESIRE HD DESIRE HD A9191 7 MOZART 7 TROPHY HTC INCREDIBLE S INCREDIBLE S G11 S710E INCREDIBLE S HTC DESIRE S HTC DESIRE S G12 HTC DESIRE S S510E HTC WILDFIRE S HTC A510E WILDFIRE S HTC PG76110 WILDFIRE S HTC WILDFIRE S A510E HTC SENSATION HTC SENSATION 4G HTC SENSATION G14 HTC SENSATION Z710 WILDFIRE G8 WILDFIRE-S HD7 HD7S HD7 S EVO 3D WILDFIRE A3333 WILDFIRE A3335 SENSATION XE SENSATION XL HTC RUNNYMEDE HTC RIDER HTC HOLIDAY HTC RAIDER 4G LTE HTC RHYME HTC BLISS HTC SENSATION Z710A HTC SENSATION Z710E HTC Z710A HTC Z710E HTC G14 SENSATION EXPLORER HTC EXPLORER HTC PICO HTC WILDFIRE S A510B HTC ONE X HTC TITAN 4G HTC TITAN II 4G HTC TITAN HTC X310E TITAN HTC ETERNITY HTC BUNYIP HTC ULTIMATE HTC One XL X325e HTC One XL X325s HTC ONE V HTC ONE S HD7 T9292 HTC One XL X325B HTC Desire C A320e HTC A320e Desire C HTC Desire C A320b HTC A320b Desire C HTC Desire X T328e HTC T328e Desire X HTC Windows Phone 8X HTC Accord HTC Windows Phone 8X CDMA HTC 8X HTC Windows Phone 8S HTC 8S HTC One SV HTC Desire VC T328d HTC Desire VC T328d HTC One M7 801e HTC M7 HTC 801e HTC Butterfly X920d HTC Deluxe
| Part No. | Stock | Price | Quantity |
| --- | --- | --- | --- |
Top Sellers
New Arrivals