Universal Finger-Touch Stylus - Light Grey
Universal Finger-Touch Stylus - Light Grey
An elegant, portable stylus for 'capacitative', finger-touch touchscreens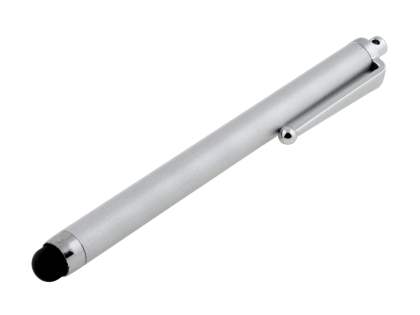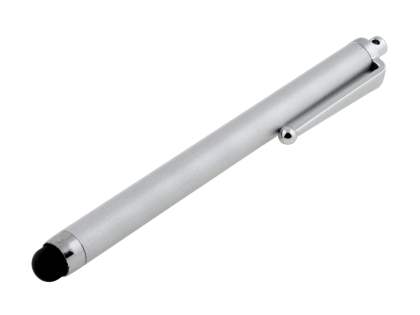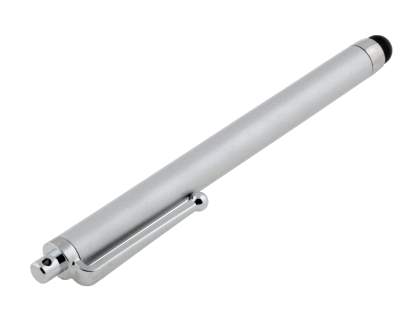 Select a Colour
This simple, portable stylus is just what you need to get more out of your phone.
The black rounded-tip end is the stylus, and is crafted from a special rubbery material that's effective yet gentle on your touchscreen.
This stylus is specifically designed for use with 'capacitative' touchscreens - that is, touchscreens that are designed to be used by a finger, and on which normal pens and styluses won't work.
The stylus glides over the touchscreen, and can be used to tap, type, draw, write and play games - just like your finger, but with greater precision and no oily, annoying fingerprints.
And if they also have 'capacitative' touchscreens, it can be used on other touchscreen devices as well - it's 'universal'.
This accessory is stylish, lightweight and available in a range of vibrant colours for the casing.
And it's portable, its convenient size demonstrated in comparison to a coin in the photo, so it's the perfect accessory to slip in your pocket and bag, ready to be used at any time.
Features:
Stylus is crafted from material that is effective yet gentle on your touchscreen
Specially designed for use with 'capacitative' (finger-touch) touchscreens - those touchscreens that are specifically designed to be used by a finger and can't be activated by normal styluses
Can be used to tap, type, draw, write and play games
Helps achieve greater precision
Avoids oily and annoying fingerprints all over your screen
Works on other 'capacitative' touchscreens
Portable

Huawei
Huawei Ascend Y201 Pro, Huawei U8666, Huawei Y201
Huawei Ascend G300
Huawei Ascend G510, Ascend G510 U8951
Huawei Ascend G526
Huawei Ascend G6 4G
Huawei Ascend G600, Huawei G600
Huawei Ascend P2
Huawei Ascend P7
Huawei Ascend Y210, Huawei Y210, Huawei Ascend Y210C, Huawei Ascend Y210D
Huawei Ascend Y300
Huawei Ascend Y320
Huawei Ascend Y330
Huawei Y520, Huawei Ascend Y520
Huawei Y530, Huawei Ascend Y530
Huawei Y550, Huawei Ascend Y550
Huawei Ascend Y600
Huawei Ascend G7, Huawei G7, Huawei G7-L01, G7-L03
Huawei G7 Plus, Huawei RIO-L02
Huawei G8
Huawei GR3
Huawei GR5, Huawei Honor X5, Huawei Honor 5X
Huawei Mate7, Huawei Ascend Mate 7, Huawei Mate 7
Huawei Mate 8, Huawei Ascend Mate8, Huawei NXT-L09, Huawei NXT-L29
Huawei MediaPad M1, Huawei MediaPad M1 8.0
Huawei MediaPad M2 8.0
Huawei Nexus 6P
Huawei P8
Huawei P8Lite
Huawei P9
Huawei Y3II
Huawei Y5, Y560
Huawei Y625
Huawei Y635
Customer Satisfaction Guarantee
Mobile-Mate is determined to ensure customer satisfaction at all times, so any purchase you make is backed by a total satisfaction money-back guarantee. If you are unsatisfied with your product within three months after purchase, simply email us and an exchange or refund can be arranged.