Waterproof Phone Bag - Lime Green
Waterproof Phone Bag - Lime Green
A multifunctional companion you need for outdoor activities without compromising having fun moments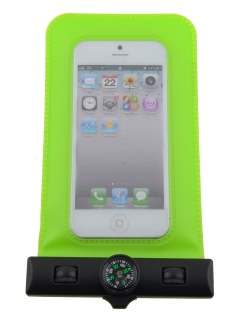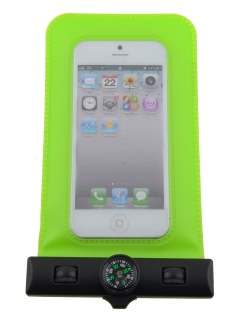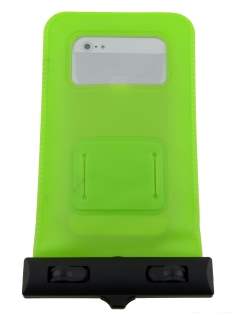 Select a Colour
Had bad experiance drowning your phone into water previously? This bag is just what you need to prevent it from happening again. This waterproof bag fits many devices and keeps it 100% dry.
It is not only a bag which keeps your phone from dust, sand and dirt, it also allows the use of the touch screen, as well as the camera - so you are still able to capture a few moments of fun without worrying about getting the device wet or damaged.
Moreover, if you still concern about dropping the whole thing into the water and it flows away or sinks to somewhere you are not able to reach, the additional elastic strip which converts it into an armband or the neck lanyard will keep your phone even safer.
Features:
Protects your phone from water, dust, sand and dirt
Fully adjustable elastic strap converts it into an armband

Allows the use of touch screen and camera through the front and back plastic windows
Compass attached

Fits a wide variety of phones
Apple Devices
iPhone 3G 3GS
iPhone 4
iPhone 4S
iPhone 5
iPhone 5c
iPhone 5s
iPhone SE
iPod Touch 4, iPod Touch4
HTC Devices
HTC Desire S S510e
HTC Desire VC T328d
HTC Desire X T328e
HTC Legend
HTC One S
HTC One V
HTC Rhyme S510b
HTC Sensation XE z710e
HTC Windows Phone 8S
HTC Windows Phone 8X, HTC Accord, HTC Windows Phone 8X CDMA
Samsung Devices
Samsung Galaxy Ace 3 GT-S7270, GT-S7272, Galaxy Ace 3 LTE GT-S7275
Samsung Galaxy Ace 3 GT-S7275T, GT-S7275Y, GT-S7275R
Samsung Galaxy Ace Plus S7500
Samsung Galaxy S Duos S7562
Samsung Galaxy S I9000
Samsung Galaxy S3 mini I8190, I8190N
Samsung Galaxy S4 mini Duos I9192 Dual SIM with dual-SIM card slots
Samsung Galaxy S5 mini SM-G800Y, SM-G800F, SM-G800H, SM-G800
Samsung Galaxy Y S5360, S5360T
Samsung Galaxy S4 mini I9190, I9195
Samsung Omnia 7 I8700
Samsung Wave S8500
Samsung Xcover 271, B2710
Sony Devices
Sony Xperia J ST26i, ST26a
Sony Xperia P LT22i, Sony LT22i Nypon
Sony Xperia S LT26i, Sony Ericsson Xperia Nozomi, Sony Ericsson Arc HD
Sony Xperia U LT25i, ST25i, Sony Ericsson ST25i Kumquat
Sony Xperia Z C6603, C6602, Sony Xperia Z HSPA+, Sony Xperia Z L36h
Sony Xperia go ST27i, Xperia advance, Sony ST27i Xperia go, Sony ST27a
Microsoft / Nokia Devices
Nokia Lumia 520
Nokia Lumia 530, Nokia Lumia 530 Dual SIM
Nokia N8
LG Devices
LG Optimus Black P970, LG P970 Optimus Black
LG Optimus L5 II E460, E450, E450F
LG Optimus L7 II Dual P715, P716, LG Optimus Duet+
LG Optimus L7 II P710, P713, LG Optimus L7X P714
LG Optimus L7 P700, P705
LG Optimus L9 P760, P768
Motorola Devices
Motorola Moto ATRIX 2 MB865, Motorola Atrix Refresh, Motorola Fuath, Motorola Edison
Motorola DEFY MB525
Motorola Moto G XT1039, XT1032, XT1033 Dual SIM
Motorola RAZR XT910, Motorola DROID RAZR XT912, Motorola DROID HD
Huawei Devices
Huawei Ascend G510, Huawei Ascend G510 U8951 with dual-SIM
Huawei Ascend Y210, Huawei Ascend Y210C, Huawei Ascend Y210D
Huawei Ascend Y300
Huawei Ascend Y330
Telstra Devices
Samsung Galaxy Ace 3 GT-S7275T, GT-S7275Y, GT-S7275R
Samsung Galaxy Y S5360, S5360T
Customer Satisfaction Guarantee
Mobile-Mate is determined to ensure customer satisfaction at all times, so any purchase you make is backed by a total satisfaction money-back guarantee. If you are unsatisfied with your product within three months after purchase, simply email us and an exchange or refund can be arranged.