Ultraclear Screen Protector for Samsung Galaxy Note 4
Ultraclear Screen Protector for Samsung Galaxy Note 4
Fully enclosing screen frame for blocking unwanted dust & light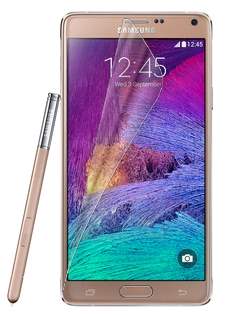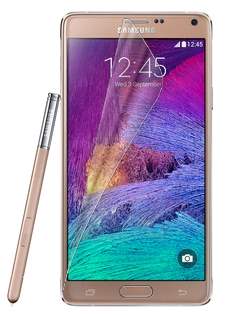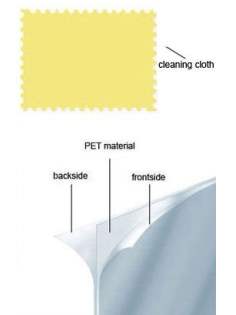 The Samsung Galaxy Note 4 touchscreen can easily get scratched, dirty or broken just through everyday use. So a reliable, good-quality screen protector is essential.
This Samsung Galaxy Note 4 screen protector provides the protection that your vulnerable touchscreen needs.
This plastic stick-on screen protector is thicker than other brands to ensure a higher standard of safety, while still being clear to allow you to see the screen images properly.
It fits the size of the screen perfectly and allows easy responses to your touch. It doesn't get dirty with fingermarks, it protects against scratches and it prevents dust and dirt buildup on the screen.
And it's easier than some other brands to stick onto the surface of the screen, reducing the chance of annoying air pockets and bubbles.
Your Samsung Galaxy Note 4's screen will be well protected in this high-quality screen protector.
Features:
Protects againsts scratches, dust, oil and fingerprints
Resists erosion and wearing down of the screen
Sticks well
Reduced chance of air bubbles forming
Can improve screen contrast by reducing damage and debris buildup on the screen
Specifically made to fit the Samsung Galaxy Note 4 - no cutting required
Samsung Galaxy Note 4 SM-N910G, SM-N910F, SM-N910K, SM-N910L, SM-N910S, SM-N910C, SM-N910FD, SM-N910FQ, SM-N910H, SM-N910U, SM-N910W8
Customer Satisfaction Guarantee
Mobile-Mate is determined to ensure customer satisfaction at all times, so any purchase you make is backed by a total satisfaction money-back guarantee. If you are unsatisfied with your product within three months after purchase, simply email us and an exchange or refund can be arranged.