Dual USB Port Car Charger Holder for iPhone
Dual USB Port Car Charger Holder for iPhone
A safe, innovative car charger holder that's perfect for driving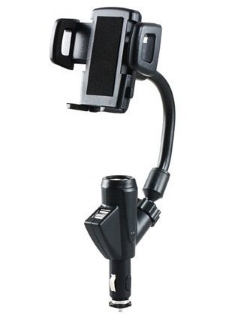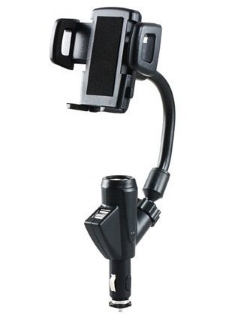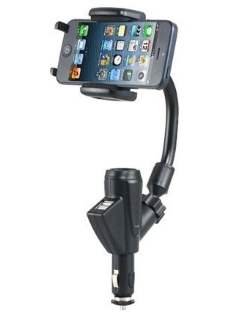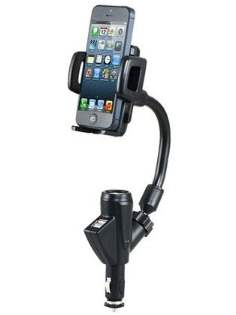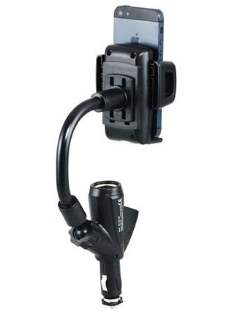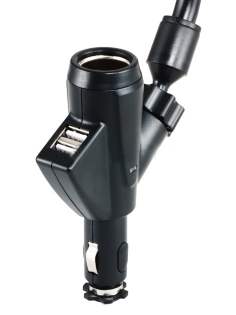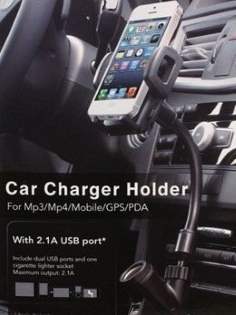 Get the latest innovation in mobile connectivity while driving, with this Dual USB Port Car Charger Holder for your iPhone.
It easily and securely plugs into the cigarette lighter socket of your car, and provides a safe, stable and convenient stand for your iPhone.
The device holder features adjustable size barriers that will tightly secure your iPhone or other electronic device, and has foot supports for even more security.
The neck is crafted from a special material that is both tough and flexible, and designed to be an optimal length for operation in the car.
There are even 2 USB ports which can be used for charging any compatible electronic device.
No more blocking the windscreen like other device holders; this accessory is the perfect way to safely and easily access your iPhone or electronic device while on the move.
Features:
Secure plug for easy attachment to the car lighter socket

Device holder with adjustable barriers for different devices and foot supports

Doesn't block the windscreen like other in-car device holders

Specially crafted, tough yet flexible neck with optimal length for in-car use

2 USB ports for charging compatible electronic devices

Indicator light

iPhone 3G 3GS
iPhone 4
iPhone 4S
iPhone 5
iPhone 5c
iPhone 5s
iPhone 6 4.7 inches
iPhone 6 Plus
iPhone 6s 4.7 inches
iPhone 6s Plus
iPhone 7 4.7 inches
iPhone 7 Plus
iPhone SE
iPod
iPod Touch 4th Generation, iPod Touch 4th Gen, iPod Touch 4g, iPod Touch 4, iPod Touch4
Customer Satisfaction Guarantee
Mobile-Mate is determined to ensure customer satisfaction at all times, so any purchase you make is backed by a total satisfaction money-back guarantee. If you are unsatisfied with your product within three months after purchase, simply email us and an exchange or refund can be arranged.