Monopod Selfie Stick - Hot Pink
Monopod Selfie Stick - Hot Pink
Take the best pictures with friends, using this light and portable Selfie Stick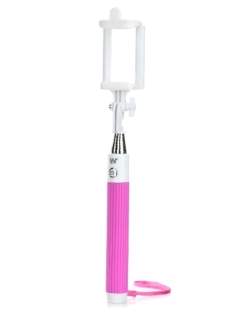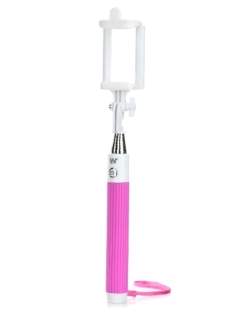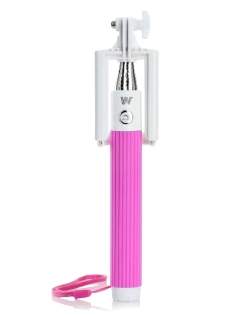 Select a Colour
Listed as one of the 25 best inventions of 2014 by Time magazine, this one makse it possible to position a smartphone or camera beyond the normal range of your arm.
The metal stick is extensible, from 25cm to a maximum of 72cm. By folding it up, a minimum length of 18cm makes it highly portable.
Simply attach your smartphone or camera to the end of the selfie stick, raise it in front of your clan or just yourself and then press the button on the stick handle which is connected to the device via Bluetooth.
Features:
It is compatible with both IOS and Android
Fits a wide varity of phones
Light weight and portable
Holder size: 55mm - 85mm

Apple Devices
iPhone 3G 3GS
iPhone 4
iPhone 4S
iPhone 5
iPhone 5c
iPhone 5s
iPhone 6 4.7 inches
iPhone 6 Plus
iPhone 6s 4.7 inches
iPhone 6s Plus
iPhone 7 4.7 inches
iPhone 7 Plus
iPhone SE
HTC Devices
HTC 10
HTC Aria A6380
HTC Butterfly, HTC Deluxe
HTC ChaCha A810E
HTC Desire 300, HTC Zara mini
HTC Desire 310
HTC Desire 320
HTC Desire 510
HTC Desire 520, HTC opgq1
HTC Desire 530, HTC Desire 630
HTC Desire 601, HTC Zara
HTC Desire 610
HTC Desire 626
HTC Desire 816
HTC Desire 820
HTC Desire A8183, A8181
HTC Desire C A320e, A320b
HTC Desire HD A9191
HTC Desire S S510e
HTC Desire VC T328d
HTC Desire X T328e
HTC Desire Z A7272
HTC EVO 3D
HTC Explorer A310e, HTC Pico
HTC Google Nexus One
HTC Hero
HTC Incredible S 710
HTC Legend
HTC One M7 801e, 801s
HTC One M8
HTC One M8s
HTC One M9
HTC One Max, HTC One Max Dual SIM
HTC One S
HTC One SV
HTC One V
HTC ONE X
HTC One X+, HTC One X Plus
HTC X9, HTC One X9
HTC One XL X325e, X325s, X325B
HTC One Mini 601s, HTC One Mini M4
HTC One mini 2
HTC Rider, HTC Holiday
HTC Rhyme S510b
HTC Salsa C510e, HTC Weike
HTC Sensation z710, z710a
HTC sensation XL X315e, HTC Runnymede
HTC Sensation XE z710e
HTC Velocity 4G
HTC Wildfire A333, A3333, A3335
HTC Wildfire S A510e, A510b, PG76110
Telstra Signature Premium, HTC A9, HTC One A9
Samsung Devices
Samsung Galaxy 5 Corby GT-I5500, GT-I5503, Galaxy Europa, Galaxy 550
Samsung Galaxy A3 SM-A300F, SM-A300FU
Samsung Galaxy A3 (2016), Galaxy A3 (2016) Duos A310Y
Samsung Galaxy A5 SM-500F, SM-A500F1, SM-A500FQ, SM-A500FU, SM-A500H, SM-A500HQ, SM-A500K, SM-A500L, SM-A500M, SM-A500S, SM-A500X, SM-A500XZ, SM-A500Y, SM-A500YZ
Samsung Galaxy Ace 2 I8160
Samsung Galaxy Ace 3 GT-S7275T, GT-S7275Y, GT-S7275R
Samsung Galaxy Ace 3 GT-S7270, GT-S7272, Galaxy Ace 3 LTE GT-S7275
Samsung Galaxy Ace Plus S7500
Samsung Galaxy Ace S5830
Samsung Galaxy Alpha S801, SM-G850, SM-G850A, SM-G850W, SM-G8508S, SM-G850F, SM-G850T, SM-G850M, SM-G850Y, SM-G850FQ
Samsung Galaxy Beam I8530
Samsung Galaxy Core Prime SM-G360F, SM-G360G, SM-G360GY, SM-G360HU, SM-G360M, SM-G360P, SM-G360BT, SM-G360FY, SM-G360H, SM-G360HU, SM-G360M, Galaxy Win 2 Duos TV SM-G360BT
Samsung Galaxy Express I8730
Samsung Galaxy Fit S5670, Galaxy Suit S5670
Samsung Galaxy Fresh GT-S7390, Galaxy Fresh Duos GT-S7392 dual SIM, Galaxy Trend Lite GT-S7390, Galaxy Trend Lite Duos GT-S7392, Galaxy Trend II Duos GT-S7572, Galaxy Trend II GT-S7570, GT-S7572, GT-S7570
Samsung Galaxy Gio S5660
Samsung Galaxy Grand I9080, I9082
Samsung Galaxy Grand Prime, Galaxy Grand Prime Duos, Galaxy Grand Prime Value Edition, G530F, G530FZ, G530Y, G530H, G530FZ, DS
Samsung Galaxy J1 2016, Galaxy J16 SM-J120H, SM -J120ZN, SM -J120F, SM -J120A
Samsung Galaxy J1 SM-J100Y, SM-J100F, SM-J100FN, SM-J100H, SM-J100H, SM-J100M, SM-J100MU
Samsung Galaxy J1 ACE J110F, J110M, J110G, Galaxy J1 Ace Duos, Galaxy J1 Ace Neo J111F
Samsung Galaxy J1 mini, Samsung Galaxy J1 mini (2016), Samsung Galaxy J1 Nxt, Samsung Galaxy J1 mini SM-J105Y
Samsung Galaxy J3 (2016) J320F, J320A, J320P, J320M, J320Y, J3109, Galaxy J3 (2016) Duos with dual-SIM card slots
Samsung Galaxy J5 Prime, Samsung Galaxy On5 (2016), G570, G570F, DS (EMEA), G570Y (Australia)
Samsung Galaxy K zoom SM-C111, LTE SM-C115, Galaxy S5 zoom
Samsung Galaxy Mega 5.8 I9150, Galaxy Mega I9152 Dual SIM
Samsung Galaxy Mini S5570
Samsung Galaxy Music S6010
Samsung Galaxy Nexus I9250, Google Nexus 3, Google Nexus 4G, Nexus Prime 4G LTE
Samsung Galaxy Note 2 N7100, N7105, N7105
Samsung Galaxy Note 3 N9000, N9002, N9005, Galaxy Note III
Samsung Galaxy Note 4 SM-N910G, SM-N910F, SM-N910K, SM-N910L, SM-N910S, SM-N910C, SM-N910FD, SM-N910FQ, SM-N910H, SM-N910U, SM-N910W8
Samsung Galaxy Note 5 SM-N920T, SM-N920A, N920I
Samsung Galaxy Note7, Galaxy Note7 Duos, N930
Samsung Galaxy Note Edge SM-N915G, SM-N915FY, SM-N915A, SM-N915T, SM-N915K, SM-N915L, SM-N915S, SM-N915D
Samsung Galaxy Note N7000, I9220
Samsung Galaxy Pocket Neo GT-S5310, Galaxy Pocket Neo GT-S5312 dual SIM, Galaxy Pocket Y Neo GT-S5312
Samsung Galaxy Pocket S5300
Samsung Galaxy S Duos 2 S7582
Samsung Galaxy S Duos S7562
Samsung Galaxy S I9000
Samsung Galaxy S2 4G GT-I9210T, Galaxy S2 LTE I9210
Samsung Galaxy S2 I9100
Samsung Galaxy S3 I9305, I9300
Samsung Galaxy S3 mini I8190, I8190N
Samsung Galaxy S4 GT-I9500, GT-I9505, GT-I9506, GT-I9507, Galaxy S4 I9502 Dual SIM
Samsung Galaxy S4 mini Duos I9192 Dual SIM with dual-SIM card slots
Samsung Galaxy S4 zoom SM-C1010, SM-C101, SM-C105
Samsung Galaxy S5 I9600, GS 5, Galaxy S5 Duos SM-G900FD, Galaxy S5 SM-G900F, SM-G900I, SM-G900K, SM-G900L, SM-G900S, SM-G900M, SM-G900A, SM-G900T, SM-G900W8
Samsung Galaxy S5 mini SM-G800Y, SM-G800F, SM-G800H, SM-G800
Samsung Galaxy S6 I9800, Galaxy S6 SM-G920, SM-G920I, SM-G9200, SM-G9208, SM-G9208, SM-G9209, SM-G920A, SM-G920F, SM-G920FD, SM-G920S, SM-G920T
Samsung Galaxy S6 Edge Plus, Galaxy S6 Edge+, SM-G928T, SM-G928A, SM-G928I
Samsung Galaxy S6 edge SM-G925, SM-G925I, SM-G9250, SM-G925A, SM-G925F, SM-G925FQ, SM-G925K, SM-G925L, SM-G925S, SM-G925T
Samsung Galaxy S7 G930, G930F, G930FD, Galaxy S7 Duos
Samsung Galaxy S7 edge, Galaxy S7 edge Duos, G935F
Samsung Galaxy Trend Plus S7583T, S7580L, S7580, S7680
Samsung Galaxy Ace II X S7560M, Galaxy Trend S7560
Samsung Galaxy W I8150, Galaxy Wonder
Samsung Galaxy Xcover S5690, Galaxy Xtreme S5690
Samsung Galaxy Y Duos GT-S6102, GT-S6102B
Samsung Galaxy Y S5360, S5360T
Samsung Galaxy Young 2 SM-G130H
Samsung Galaxy Young S6310, Galaxy Young Duos S6312, S6310L
Samsung Galaxy mini 2 S6500
Samsung Google Nexus S I9020, I9023
Samsung Galaxy S4 mini I9190, I9195
Samsung Galaxy S4 mini GT-I9195T
Samsung Galaxy S4 Active I9295, I537
Samsung Galaxy Xcover 2 S7710, S7710L
Sony Devices
Sony Ericsson Xperia Arc, Sony Ericsson Anzu, Sony Ericsson X12, LT15i, LT15a
Sony Ericsson Xperia Arc S LT18i, LT18a
Sony Ericsson Xperia neo MT15i, MT15a, Xperia Kyno, Xperia Halon, Xperia Hallon
Sony Ericsson Xperia Play 4G
Sony Ericsson Xperia x10
Sony Ericsson Xperia neo V MT11i, MT11a
Sony Xperia E1, Sony Xperia E1 Dual
Sony Xperia E4g, E2003, E2006, E2053
Sony Xperia M C1904, C1905, Sony Xperia M Dual C2004, C2005
Sony Xperia M2
Sony Xperia M4 Aqua
Sony Xperia M5
Sony Xperia T2 Ultra, Sony Xperia T2 Ultra Dual SIM D5322, XM50h
Sony Xperia X F5121, F5122
Sony Xperia X Performance
Sony Xperia XA F3111, F3113, F3115, Xperia XA Dual F3112, F3116
Sony Xperia XZ F8331, F8332
Sony Xperia Z1 Compact D5503
Sony Xperia Z2 D6503, D6543, D6502
Sony Xperia Z3 D6653, D6603, D6643, D6616, Sony Xperia Z3 Dual D6633
Sony Xperia Z3 Compact D5803, D5833, Sony Z3 mini
Sony Xperia Z5 E6603, E6653, Sony Xperia Z5 Dual E6633, E6683
Sony Xperia Z5 Compact
Sony Xperia Z5 Premium
Sony Xperia E C1505, C1504, C1605, Sony Xperia E dual
Sony Xperia J ST26i, ST26a
Sony Xperia L C2104, C2105
Sony Xperia P LT22i, Sony LT22i Nypon
Sony Xperia S LT26i, Sony Ericsson Xperia Nozomi, Sony Ericsson Arc HD
Sony Xperia SP HSPA C5302, Sony Xperia SP LTE C5303, C5306, Sony Xperia SP M35
Sony Xperia Sola MT27i, MT27i Pepper
Sony Xperia TX LT29i
Sony Xperia Z C6603, C6602, Sony Xperia Z HSPA+, Sony Xperia Z L36h
Sony Xperia Z1 C6902, C6903, C6906, C6943, L39h, Sony Xperia Z1 Honami
Sony Xperia acro S LT26w, Sony LT26w Xperia acro S
Sony Xperia go ST27i, Xperia advance, Sony ST27i Xperia go, Sony ST27a
Sony Xperia ion HSPA, Xperia ion LT28h
Sony Xperia ion LTE LT28at, LT28i
LG Devices
LG GC900 Viewty Smart
LG F70 D315
LG G Flex
LG G2 D802, D802TA, D803, VS980
LG G3, D855, D851, D850, VS985, LS990
LG G4, H815, H815TR, H815T, H815P, H812, H810, H811, LS991, VS986, US991
LG G5, LG G5 dual-SIM
LG Nexus 5, LG Google Nexus 5
LG L Fino D295F, D290N, D295
LG L20
LG L70 D320N, D320, LG L70 Dual D325
LG L80, LG L80 Dual SIM
LG Leon
LG Nexus 4 E960, LG Google Nexus 4 E960, Google Nexus 4 LG E960
LG Nexus 5X
LG Optimus 2X P990 Star, LG P990 Optimus Speed, LG Optimus 2X P990, P993
LG Optimus 3D P920
LG Optimus Black P970, LG P970 Optimus Black
LG Optimus F3, LS720, P655K
LG Optimus F5 P875
LG Optimus G E975K, E975, E973, E971, LG-F180
LG Optimus G Pro E985, E980, E986, F240
LG Optimus L2 E405
LG Optimus L3 E400, LG E400 Optimus L3, LG L3 E400 Optimus
LG Optimus L3 II Dual E435
LG Optimus L3 II E430, E425, E425F
LG Optimus L5 E610, E612
LG Optimus L5 II E460, E450, E450F
LG Optimus L7 II Dual P715, P716, LG Optimus Duet+
LG Optimus L7 II P710, P713, LG Optimus L7X P714
LG Optimus L7 P700, P705
LG Optimus Me P350
LG Optimus One P500
LG Optimus Spirit P690, LG Optimus Net P699, LG Optimus Link P690
LG Prada 3.0, LG Prada K2, LG P940
LG Spirit 4G LTE H440N, LG Spirit H420
LG Stylus DAB+, LG Stylus DAB Plus, LG Stylus 2
LG Optimus L9 P760, P768
Telstra Signature Enhanced, LG X screen K500K, K500N, K500DS
Motorola Devices
Motorola DEFY XT535
Motorola Moto ATRIX 2 MB865, Motorola Atrix Refresh, Motorola Fuath, Motorola Edison
Motorola Moto ATRIX 4G MB860
Motorola DEFY MB525
Motorola Moto DEFY+ MB526, Motorola Moto DEFY Plus MB526
Motorola Defy Mini XT320
Motorola Google Nexus 6
Motorola Moto E 1st Gen, Motorola Moto E 1st Gen Dual SIM, XT1022, XT1025, XT1021
Motorola Moto E (2nd gen)
Motorola Moto G XT1039, XT1032, XT1033 Dual SIM
Motorola Moto G 2014 edition, Motorola Moto G 2nd Gen XT1068, Motorola Moto G2, Motorola Moto G Dual SIM 2014, Motorola Moto G (2nd Gen.) Dual SIM, Motorola Moto G2 Dual SIM
Motorola Moto G 3rd gen, Motorola Moto G3, Motorola Moto G Turbo Edition XT1557, Motorola Moto G Dual SIM 3rd gen XT1550
Motorola Moto G4
Motorola Moto G4 Plus
Motorola Moto X
Motorola Moto X Play
Motorola Moto X Style
Motorola RAZR XT910, Motorola DROID RAZR XT912, Motorola DROID HD
Motorola RAZR HD XT925, XT926, Motorola DROID RAZR HD
Motorola RAZR M XT905, XT907, Motorola DROID RAZR M
Motorola RAZR V MT887
Motorola RAZR V XT885
ZTE Devices
Telstra 4GX HD, ZTE Blade A475
Telstra 4GX Plus, ZTE Blade A462
Telstra 4GX Smart, ZTE Blade A112
BLADE G LUX DUAL SIM
ZTE Blade V Plus
Blade V6
ZTE Blitz, ZTE Blade V0720
ZTE FIT 4G Smart
Telstra Evolution ZTE T80
ZTE Telstra Tempo T815, ZTE T815 Telstra Tempo
Telstra Dave ZTE T83
ZTE Telstra 4GX Buzz, ZTE Blade Qlux 4G, ZTE Blade Q Lux 4G
ZTE Grand X LTE T82, ZTE Telstra Easy Touch 4G, ZTE Easy Touch 4G for Telstra
ZTE Telstra Frontier 4G
ZTE T790 Telstra Pulse
ZTE Telstra Tough Max
ZTE ZIP, ZTE Blade A110
Huawei Devices
Huawei Ascend Y201 Pro, Huawei U8666, Huawei Y201
Huawei Ascend G300
Huawei Ascend G510, Huawei Ascend G510 U8951 with dual-SIM
Huawei Ascend G526
Huawei Ascend G6 4G
Huawei Ascend G600, Huawei G600
Huawei Ascend P2
Huawei Ascend P7
Huawei Ascend Y210, Huawei Ascend Y210C, Huawei Ascend Y210D
Huawei Ascend Y300
Huawei Ascend Y320
Huawei Ascend Y330
Huawei Y520, Huawei Ascend Y520
Huawei Y530, Huawei Ascend Y530
Huawei Y550, Huawei Ascend Y550
Huawei Ascend Y600
Huawei Ascend G7, Huawei G7, G7-L01, G7-L03
Huawei G7 Plus, Huawei RIO-L02
Huawei G8
Huawei GR3
Huawei GR5, Huawei Honor X5, Huawei Honor 5X
Huawei Mate7, Huawei Ascend Mate 7, Huawei Mate 7
Huawei Mate 8, Huawei Ascend Mate8, Huawei NXT-L09, Huawei NXT-L29
Huawei Nexus 6P
Huawei P8
Huawei P8Lite, Huawei P8 Lite
Huawei P9
Huawei Y3II
Huawei Y5, Y560
Huawei Y625
Huawei Y635
Google Devices
Samsung Galaxy Nexus I9250, Google Nexus 3, Google Nexus 4G, Nexus Prime 4G LTE
Samsung Google Nexus S I9020, I9023
Google Pixel 5.0 inches
Google Pixel XL
HTC Google Nexus One
Huawei Nexus 6P
LG Nexus 5, LG Google Nexus 5
LG Nexus 4 E960, LG Google Nexus 4 E960, Google Nexus 4 LG E960
LG Nexus 5X
Motorola Google Nexus 6
OPPO Devices
OPPO F1
Oppo F1s, Oppo A59
Oppo R9 4G
Oppo R9s
Customer Satisfaction Guarantee
Mobile-Mate is determined to ensure customer satisfaction at all times, so any purchase you make is backed by a total satisfaction money-back guarantee. If you are unsatisfied with your product within three months after purchase, simply email us and an exchange or refund can be arranged.