Genuine Samsung Wireless Charging Pad - Pearl White
Genuine Samsung Wireless Charging Pad - Pearl White
Wirelessly charge your Qi enabled device on this stylish pad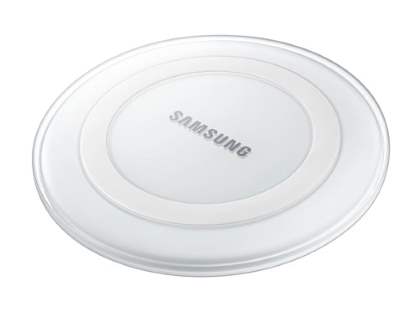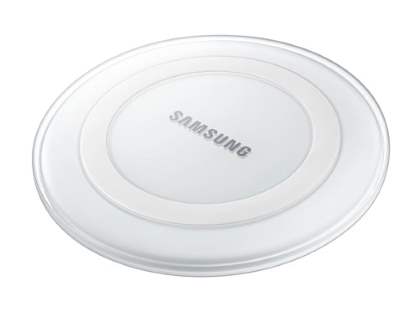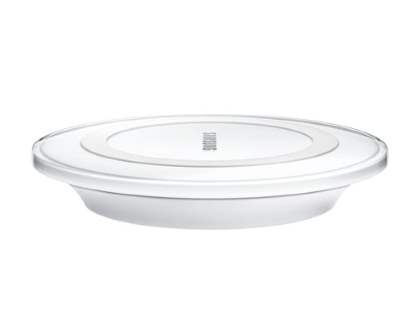 Wireless Charging Pad
Introducing the Samsung Wireless Charging Pad. With this stylish accessory, you can charge your compatible Galaxy smartphones, and other Qi-compatible devices, without the need to plug your smartphone into a wall charger or USB port. Simply place your smartphone directly onto the charging pad and your phone begins to charge.
No Cables. No Problems.
Say goodbye to tangled wires and lost charging cables. The Samsung Wireless Charging Pad utilises Qi Inductive Charging Technology that eliminates the need to attach a charging cable every time you want to charge your smartphone. The dedicated Charging Pad is always at the ready, providing wireless power whenever you set your device on the pad. You can still use your device while charging, and your device is always accessible so you can answer a call without having to unplug.
One Charger, Many Devices
The Samsung Wireless Charging Pad is Qi certified by the Wireless Power Consortium (WPC) and is compatible with all Qi-enabled devices including the Samsung: Galaxy S4, Galaxy S5 and Galaxy Note 3, Galaxy Note 4 and Galaxy Note Edge (these smartphones require a Wireless Charging Battery Cover) as well as the Galaxy S6 and Galaxy S6 Edge, which do not require the additional charging battery cover.
Easy To Use
The Samsung Wireless Charging Pad is easy to set up and use. First, connect the Charging Pad to an AC adapter with your smartphone's charging cable, then place your smartphone on the pad. For optimal performance, your device should be placed in the proper location on the pad. The built-in LED indicator light will alert you if your smartphone is not properly aligned and when a good charge alignment is acquired. When charging a Galaxy S6 or Galaxy S6 Edge, the Wireless Charging Pad will also alert you when your device is fully charged. Its ambient LED display indicates charging status, turning from a subtle blue to a vibrant green when the battery is full. A Samsung 2A AC adapter should be used with the pad. If a non-Samsung or Samsung charger below 2A is used, you may damage the charging pad.
Features:
Wireless Charging Pad
No Cables. No Problems.
Easy To Use
One Charger, Many Devices
Packaging Contents:
Wireless Charger, Quick Start Guide
(Wall Adaptor and Charging Cable are not included)
Apple Devices
Apple iPhone 8
Apple iPhone 8 Plus
Apple iPhone X
Samsung Devices
Samsung Galaxy Note 5 SM-N920T, SM-N920A, N920I
Samsung Galaxy Note7, Galaxy Note7 Duos, N930
Samsung Galaxy S5 I9600, GS 5, Galaxy S5 Duos SM-G900FD, Galaxy S5 SM-G900F, SM-G900I, SM-G900K, SM-G900L, SM-G900S, SM-G900M, SM-G900A, SM-G900T, SM-G900W8
Samsung Galaxy S6 I9800, Galaxy S6 SM-G920, SM-G920I, SM-G9200, SM-G9208, SM-G9208, SM-G9209, SM-G920A, SM-G920F, SM-G920FD, SM-G920S, SM-G920T
Samsung Galaxy S6 Edge Plus, Galaxy S6 Edge+, SM-G928T, SM-G928A, SM-G928I
Samsung Galaxy S6 edge SM-G925, SM-G925I, SM-G9250, SM-G925A, SM-G925F, SM-G925FQ, SM-G925K, SM-G925L, SM-G925S, SM-G925T
Samsung Galaxy S7 G930, G930F, G930FD, Galaxy S7 Duos
Samsung Galaxy S7 edge, Galaxy S7 edge Duos, G935F
Samsung Galaxy S8
Samsung Galaxy S8+, Samsung Galaxy S8 Plus
Samsung Galaxy S9
Samsung Galaxy S9+, Samsung Galaxy S9 plus
Customer Satisfaction Guarantee
Mobile-Mate is determined to ensure customer satisfaction at all times, so any purchase you make is backed by a total satisfaction money-back guarantee. If you are unsatisfied with your product within three months after purchase, simply email us and an exchange or refund can be arranged.