16GB SanDisk Ultra Dual USB Drive 3.0 for Samsung
16GB SanDisk Ultra Dual USB Drive 3.0 for Samsung
Quickly and easily transfer your files between OTG-enabled Android smartphones and tablets and PC and Mac computers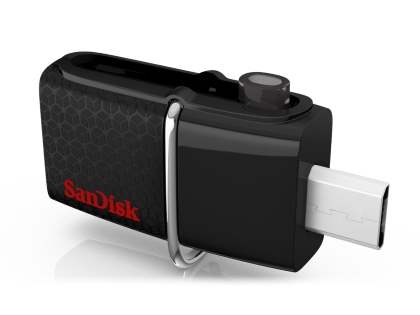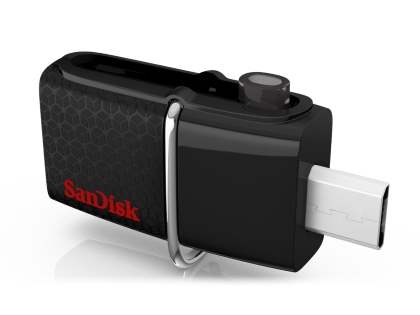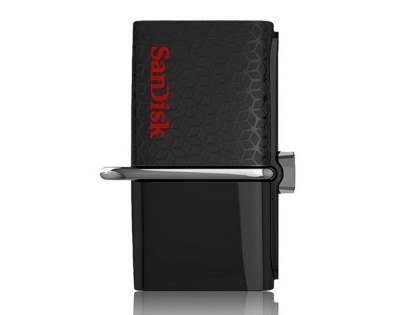 Connect the drive to the micro-USB port of your Android device to move up to 16GB of content to the drive. Then transfer files from drive to computer at up to 130MB/s with the high-speed USB 3.0 connector. The SanDisk Ultra Dual USB Drive 3.0 makes it easy—and fast—to free up space for photos, videos, songs, and more.
This is the flash drive you've always wanted, the one that makes it fast and easy to transfer or share files from your OTG-enabled Android smartphone or tablet onto your PC or Mac computer, or with other Android devices. Now your phone is always in the zone, ready to shoot more pictures and videos or add more songs on the go.
With a micro-USB connector on one end, and a USB 3.0 connector on the other, this sleek, handy flash drive lets you move content easily between all the devices in your world - from your OTG-enabled Android smartphone to your tablet, your laptop, your Mac or PC. The USB connector is USB 3.0 enabled and backward-compatible with USB 2.0 ports.
Transfer from your flash drive to your computer's USB 3.0 port at the no-wait rate of up to 130MB/s. Speed like this makes it possible to move whole movies, audiobooks, or music libraries in just seconds. And that helps make your Android smartphone the ultimate on-the-go entertainment device as well your favorite camera.
Offering up to 16GB of storage, SanDisk Ultra Dual USB Drive 3.0 gives you more than enough capacity for large digital photo or music libraries and plenty of room to move yesterday's videos off your phone so you have room to capture what's happening today.
Download the SanDisk Memory Zone app from the Google Play Store and use it to monitor available memory and efficiently manage, organize, and back up files stored on your Android smartphone.
This "plug and play" flash drive is automatically detected when you connect it to an OTG-enabled Android smartphone or tablet.
The SanDisk Ultra Dual USB Drive 3.0 is compatible and works instantly with PC and Mac computers running Windows Vista, Windows 7, Windows 8, and Mac OS 10.6+ - no drivers required.
Features:
High storage capacity for storing essential digital content such as high quality photos, videos, music and more
Optimal speed and performance

Retrieving stored data almost instantly, thanks to its up to 180MB/s read capability.

Easily transfer files between your digital devices and computer
Not all devices support SanDisk Ultra Dual USB Drive 3.0. Please contact your device manufacturer for details.
Features:
Hi-Speed USB 3.0 compatible transfer rates.
Compatible with Windows Vista, Windows 7, Windows 8, and Mac OS 10.6+.
Easy to install and use.
Samsung Devices
Samsung Galaxy J3 (2016) J320F, J320A, J320P, J320M, J320Y, J3109, Galaxy J3 (2016) Duos with dual-SIM card slots
Samsung Galaxy J5 Prime, Samsung Galaxy On5 (2016), G570, G570F, DS (EMEA), G570Y (Australia)
Samsung Galaxy K zoom SM-C111, LTE SM-C115, Galaxy S5 zoom
Samsung Galaxy Mega 6.3 I9200, SGH-i527
Samsung Galaxy Note 10.1 2014 Edition SM-P600, SM-P601 3G, SM-P605 3G+LTE
Samsung Galaxy Note 2 N7100, N7105, N7105
Samsung Galaxy Note 4 SM-N910G, SM-N910F, SM-N910K, SM-N910L, SM-N910S, SM-N910C, SM-N910FD, SM-N910FQ, SM-N910H, SM-N910U, SM-N910W8
Samsung Galaxy Note 5 SM-N920T, SM-N920A, N920I
Samsung Galaxy Note 8.0 N5100, N5110, N5120, Galaxy Note 510, 511, Galaxy Note 8 3G
Samsung Galaxy Note Edge SM-N915G, SM-N915FY, SM-N915A, SM-N915T, SM-N915K, SM-N915L, SM-N915S, SM-N915D
Samsung Galaxy S2 4G GT-I9210T, Galaxy S2 LTE I9210
Samsung Galaxy S2 I9100
Samsung Galaxy S3 I9305, I9300
Samsung Galaxy S4 GT-I9500, GT-I9505, GT-I9506, GT-I9507, Galaxy S4 I9502 Dual SIM
Samsung Galaxy S4 zoom SM-C1010, SM-C101, SM-C105
Samsung Galaxy S6 I9800, Galaxy S6 SM-G920, SM-G920I, SM-G9200, SM-G9208, SM-G9208, SM-G9209, SM-G920A, SM-G920F, SM-G920FD, SM-G920S, SM-G920T
Samsung Galaxy S6 Edge Plus, Galaxy S6 Edge+, SM-G928T, SM-G928A, SM-G928I
Samsung Galaxy S6 edge SM-G925, SM-G925I, SM-G9250, SM-G925A, SM-G925F, SM-G925FQ, SM-G925K, SM-G925L, SM-G925S, SM-G925T
Samsung Galaxy S7 G930, G930F, G930FD, Galaxy S7 Duos
Samsung Galaxy S7 edge, Galaxy S7 edge Duos, G935F
Samsung Galaxy Tab 2 10.1 P5100, P5110
Samsung Galaxy Tab 2 7.0 P3100, P3110, P3113, I705
Samsung Galaxy Tab 3 10.1 P5200, P5210, P5220
Samsung Galaxy Tab 3 8.0 SM-T310, SM-T311, SM-T315
Samsung Galaxy Tab 7.0 Plus P6210, P6200
Samsung Galaxy Tab Pro 10.1 SM-T520, SM-T525
Samsung Galaxy Tab Pro 8.4 SM-T320, SM-T321, SM-T325
Samsung Galaxy Tab S 8.4 LTE, Galaxy Tab S 8.4 4G
Samsung Galaxy S4 Active I9295, I537
Sony Devices
Sony Xperia X F5121, F5122
Sony Xperia X Performance
Sony Xperia XA F3111, F3113, F3115, Xperia XA Dual F3112, F3116
Sony Xperia Z5 E6603, E6653, Sony Xperia Z5 Dual E6633, E6683
Sony Xperia Z5 Compact
Motorola Devices
Motorola Moto G4
Motorola Moto G4 Play, Motorola Moto G4 Play Dual XT1602
Motorola Moto G4 Plus
ZTE Devices
ZTE Blade V Plus
OPPO Devices
OPPO R7s
Oppo F1s, Oppo A59
Oppo R9s
Customer Satisfaction Guarantee
Mobile-Mate is determined to ensure customer satisfaction at all times, so any purchase you make is backed by a total satisfaction money-back guarantee. If you are unsatisfied with your product within three months after purchase, simply email us and an exchange or refund can be arranged.