MOMAX Micro USB AC Travel Charger for MOTOROLA
MOMAX Micro USB AC Travel Charger for MOTOROLA
With premium quality from Momax at a price this cheap, convenience and safety have never been so affordable!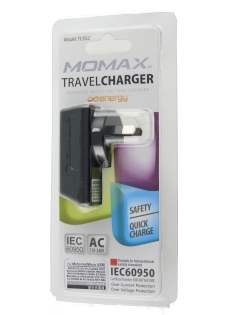 With this premium quality Momax travel charger for you phone, your mobile will always be charged and ready to use at a moment's notice.
Crafted by Momax, you can be sure that this charger is of superior quality. This top brand has special expertise in making chargers for mobile phones, so your charger can be relied upon to perform, whenever you need it.

This accessory is particularly suited for long journeys or workers who are constantly on the move.

Features:
Input: 100-240V 50-60Hz 0.15A
Output: 5.2V 600mA
Blue and green color indicators for power status
Short-circuit and over charger protection
Manufactured with IEC 60950 quality assurance
Compiled to international safety standard
Applicable Certificate: CE
Warranty: 12 months warranty period
Packaging:
Blister
Package Size: W89*L190*H50mm
Motorola
Motorola DEFY XT535
Motorola ATRIX 2 MB865, Motorola MB865 ATRIX 2, MOTO ATRIX 2 MB865, MOTO MB865 ATRIX 2, Motorola Atrix Refresh, Motorola Fuath, Motorola Edison, Motorola 4G ATRIX 2
Motorola ATRIX MB860, Motorola ATRIX 4G MB860, Motorola MB860 ATRIX 4G, MOTO ATRIX, MOTO ATRIX 4G MB860, MOTO MB860 ATRIX 4G
Motorola DEFY MB525, Motorola MB525 DEFY, MOTO DEFY MB525, MOTO MB525 DEFY
Motorola DEFY+ MB526, Motorola DEFY Plus MB526, Motorola MB526 DEFY+, Motorola MB526 DEFY Plus, MOTO DEFY+ MB526, MOTO DEFY Plus MB526, MOTO MB526 DEFY+, MOTO MB526 DEFY Plus
Motorola Defy Mini XT320, Motorola XT320 Defy Mini, MOTO Defy Mini XT320, MOTO XT320 Defy Mini
Motorola Google Nexus 6
Motorola Moto E 1st Gen Dual SIM, XT1022, XT1025, XT1021, Motorola Moto E 1st Gen
Motorola Moto E (2nd gen)
Motorola Moto G 4G XT1039, Motorola Moto G LTE XT1039, Motorola Moto G XT1032, Motorola Moto G XT1033 Dual SIM, Motorola Moto G X1032, Motorola Moto G X1033 Dual SIM
Motorola Moto G 2014 edition, Motorola Moto G 2nd Gen XT1068, Motorola Moto G2, Motorola Moto G Dual SIM 2014, Motorola Moto G (2nd Gen.) Dual SIM, Motorola Moto G2 Dual SIM
Motorola Moto G 3rd gen
Motorola Moto G4
Motorola Moto X
Motorola Moto X Play
Motorola Moto X Style
Motorola RAZR XT910, Motorola DROID RAZR XT912, Motorola DROID HD
Motorola RAZR HD 4G XT925, Motorola RAZR HD XT925, Motorola RAZR HD XT926, Motorola DROID RAZR HD
Motorola RAZR M XT905, Motorola RAZR M 4G, Motorola RAZR M 4G XT907, Motorola RAZR M XT907, Motorola DROID RAZR M
RAZR V MT887
Motorola RAZR V XT885
Motorola XOOM 2 10.1
Customer Satisfaction Guarantee
Mobile-Mate is determined to ensure customer satisfaction at all times, so any purchase you make is backed by a total satisfaction money-back guarantee. If you are unsatisfied with your product within three months after purchase, simply email us and an exchange or refund can be arranged.