Samsung 'Resistive-Type' Touchscreen Extendable Stylus - White
Samsung 'Resistive-Type' Touchscreen Extendable Stylus - White
Get more effective control over your 'resistive-type' touchscreen with this lightweight & efficient extendable stylus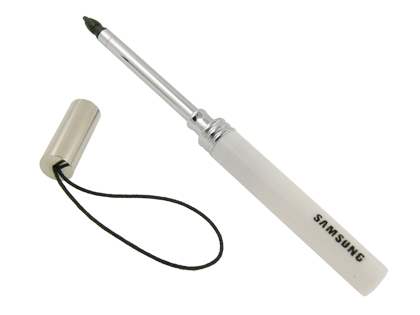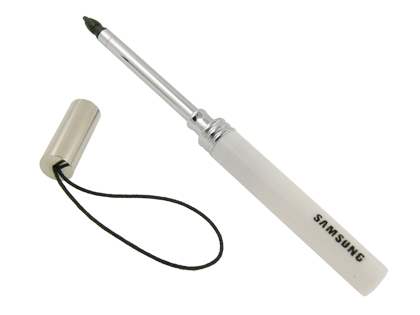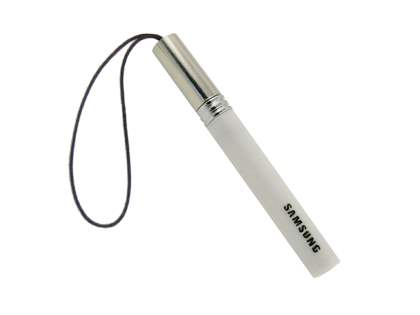 With a high-quality, thoughtfully designed stylus like this, you can get the ultimate control over your touchscreen.
Crafted with efficient and comfortable use in mind, this stylus gives you fine control and precision over your touchscreen, making it more accurate and less frustrating than using your fingers alone.
You can scroll, highlight, double-tap, draw, write, play games and use other essential touchscreen functions easily.
The tip activates touchscreen functions without damaging the screen, and requires very little effort to use.
It's held comfortably and securely in your grasp, just like a pen, and is both small and lightweight for convenient storage and travel.
The stylus is also extendable, so you can extend it for a more comfortable grip when in use, and then shrink it for easy portability when you're finished.
Avoid slow progress and frustrating mistakes with this convenient and effective stylus for your delicate touchscreen.
Please Note:
This stylus is only compatible with 'resistive' touchscreens, which are the type of touchscreens that don't require a finger to be used. It will not work with 'capacitive' touchscreens, which can only be used with a finger or a special 'capacitative' stylus. For a 'capacitative' stylus, please refer to our 'Universal' stylus range.
Features:
Fine control and precision over touchscreen functions
Extendable design for more comfortable grip

Doesn't damage the touchscreen's surface
Works on a range of 'resistive' (non-finger-touch) touchscreens (it will not work on 'capacitative', finger-touch screens)

Comfortable and secure grasp
Small and lightweight
Samsung Devices
Samsung Omnia II I8000, Omnia Icon
Microsoft Devices
Nokia Asha 300
Nokia C3-01 Touch and Type
Nokia C5-03
Nokia C6
Nokia N97 Mini
Nokia X3, X3-02
Nokia Devices
Nokia 3310 (2017)
Nokia Asha 300
Nokia C3-01 Touch and Type
Nokia C5-03
Nokia C6
Nokia N97 Mini
Nokia X3, X3-02
Sony Devices
Sony Ericsson Vivaz U5i
LG Devices
LG GS290 Cookie Fresh
LG GT540 Optimus, LG GT540f Optimus
LG KP500 Cookie
LG Wink 3G T320, LG T320
Blackberry Devices
BlackBerry Curve 8900
ZTE Devices
ZTE V9, ZTE Tablet, ZTE V9 Android Tablet
Customer Satisfaction Guarantee
Mobile-Mate is determined to ensure customer satisfaction at all times, so any purchase you make is backed by a total satisfaction money-back guarantee. If you are unsatisfied with your product within three months after purchase, simply email us and an exchange or refund can be arranged.