16GB SanDisk MicroSDHC UHS-I Card with Adapter for Nokia
16GB SanDisk MicroSDHC UHS-I Card with Adapter for Nokia
fit more on your phone and move it between devices with this SanDisk Micro SD memory card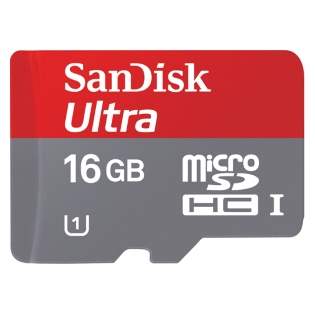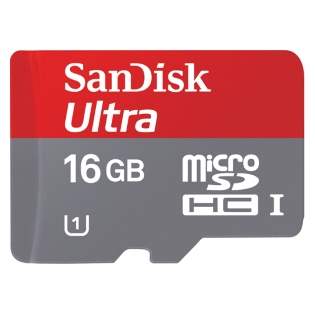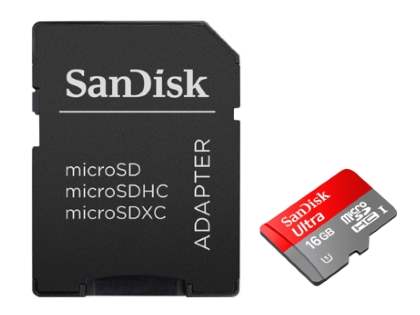 SanDisk MicroSDHC TransFlash / microSD cards offer higher storage for more music, more videos, more pictures, more games for your mobile devices.
The combination of a SanDisk MicroSDHC card that can be used with multiple adapters means users can pack light and do more with a single card, interchanging it with many devices.
SanDisk MicroSDHC UHS-I Card - 16GB Features:
High storage capacity for storing essential digital content such as high quality photos, videos, music and more
Optimal speed and performance for microSDHC compatible devices
Retrieving stored data almost instantly, thanks to its up to 48MB/s read capability and fast bus interface. TheSanDisk Ultra microSDHC and microSDXC UHS-I cards offer faster app loading and smoother, more fluid app performance.
Built to last, with an operating shock rating of 2,000Gs, equivalent to a ten-foot drop **
Easily transfer files between your digital devices and computer
Not all devices support microSDHC GB cards. Please contact your device manufacturer for details. To ensure compatibility, look for the microSDHC logo on the product or packaging of your new phone or PDA.
**Based on SanDisk internal testing
Features:
Hi-Speed USB 2.0 compatible transfer rates.
Additional card adapter.
View, edit, and copy photos/data/music.
Compatible with Windows Vista, XP, 2000 and Mac OS X.
Easy to install and use.
Microsoft Lumia 435, Microsoft Lumia 435 Dual SIM
Microsoft Lumia 532, Nokia Lumia 532 Dual SIM
Microsoft Lumia 550
Microsoft Lumia 640 LTE, Microsoft Lumia 640 Dual SIM, Microsoft Lumia 640 LTE Dual SIM
Microsoft Lumia 640 XL LTE Dual SIM, Microsoft Lumia 640 XL LTE, Microsoft Lumia 640 XL Dual SIM
Microsoft Lumia 650
Microsoft Lumia 950, Microsoft Lumia 950 Dual SIM
Microsoft Lumia 950 XL
Nokia 108
Nokia 208 Dual SIM
Nokia 220
Nokia 301, 3010
Nokia 6720 classic
Nokia 700
Nokia Asha 210, Nokia Asha 210 Dual Sim
Nokia Asha 230
Nokia Asha 303
Nokia Asha 311, 3110, Nokia Asha Charme 311
Nokia C3
Nokia C5
Nokia C6
Nokia C7
Nokia E5
Nokia E52
Nokia E55
Nokia E63
Nokia E7
Nokia E71
Nokia E72
Nokia Lumia 1520
Nokia Lumia 2520
Nokia Lumia 520
Nokia Lumia 530, Nokia Lumia 530 Dual SIM
Nokia Lumia 620
Nokia Lumia 625
Nokia Lumia 630
Nokia Lumia 635
Nokia Lumia 636
Nokia Lumia 720
Nokia Lumia 735, Nokia Lumia 730 Dual SIM
Nokia Lumia 810
Nokia Lumia 820
Nokia Lumia 830
Nokia N8
Nokia N97 Mini
Nokia X3, X3-02
Nokia X5, X5-01
Customer Satisfaction Guarantee
Mobile-Mate is determined to ensure customer satisfaction at all times, so any purchase you make is backed by a total satisfaction money-back guarantee. If you are unsatisfied with your product within three months after purchase, simply email us and an exchange or refund can be arranged.