Original HTC Micro USB Data Cable for Motorola - Black
Original HTC Micro USB Data Cable for Motorola - Black
Charge and sync your Motorola mobile wherever you are with this versatile original HTC USB Cable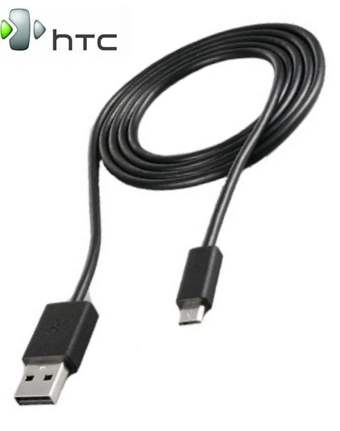 This USB cable for Motorola phones gives rapid connection between your phone and a computer. It can be used for charging your HTC devices via computers, wall charging adaptors or car charging adaptors. The cable is durable, light-weight and portable for transport, wherever you need to go.

Using software distributed separately by Motorola, you can then transfer any files, songs, addresses, numbers and notes safely and efficiently between your computer and your phone.
Essential for anyone who wants to get the most out of their phone, this data cable opens up many possibilities to organise and enrich your life.
Features:
Compatible with a range of Motorola phones
Fast and efficient USB connection
Update music and transfer data
Compact and light-weight
Highly convenient
Easy, reliable connection to both the phone and the USB port
Length of the cable 1m.
Note: This cable does not come with the software needed to transfer data using this cable
Motorola DEFY XT535
Motorola ATRIX 2 MB865, Motorola MB865 ATRIX 2, MOTO ATRIX 2 MB865, MOTO MB865 ATRIX 2, Motorola Atrix Refresh, Motorola Fuath, Motorola Edison, Motorola 4G ATRIX 2
Motorola ATRIX MB860, Motorola ATRIX 4G MB860, Motorola MB860 ATRIX 4G, MOTO ATRIX, MOTO ATRIX 4G MB860, MOTO MB860 ATRIX 4G
Motorola DEFY MB525, Motorola MB525 DEFY, MOTO DEFY MB525, MOTO MB525 DEFY
Motorola DEFY+ MB526, Motorola DEFY Plus MB526, Motorola MB526 DEFY+, Motorola MB526 DEFY Plus, MOTO DEFY+ MB526, MOTO DEFY Plus MB526, MOTO MB526 DEFY+, MOTO MB526 DEFY Plus
Motorola Defy Mini XT320, Motorola XT320 Defy Mini, MOTO Defy Mini XT320, MOTO XT320 Defy Mini
Motorola Google Nexus 6
Motorola Moto E 1st Gen Dual SIM, XT1022, XT1025, XT1021, Motorola Moto E 1st Gen
Motorola Moto E (2nd gen)
Motorola Moto G 4G XT1039, Motorola Moto G LTE XT1039, Motorola Moto G XT1032, Motorola Moto G XT1033 Dual SIM, Motorola Moto G X1032, Motorola Moto G X1033 Dual SIM
Motorola Moto G 2014 edition, Motorola Moto G 2nd Gen XT1068, Motorola Moto G2, Motorola Moto G Dual SIM 2014, Motorola Moto G (2nd Gen.) Dual SIM, Motorola Moto G2 Dual SIM
Motorola Moto G 3rd gen
Motorola Moto G4
Motorola Moto X
Motorola Moto X Play
Motorola Moto X Style
Motorola RAZR XT910, Motorola DROID RAZR XT912, Motorola DROID HD
Motorola RAZR HD 4G XT925, Motorola RAZR HD XT925, Motorola RAZR HD XT926, Motorola DROID RAZR HD
Motorola RAZR M XT905, Motorola RAZR M 4G, Motorola RAZR M 4G XT907, Motorola RAZR M XT907, Motorola DROID RAZR M
RAZR V MT887
Motorola RAZR V XT885
Motorola XOOM 2 10.1
Customer Satisfaction Guarantee
Mobile-Mate is determined to ensure customer satisfaction at all times, so any purchase you make is backed by a total satisfaction money-back guarantee. If you are unsatisfied with your product within three months after purchase, simply email us and an exchange or refund can be arranged.