Micro USB Car Charger for BlackBerry Bold 9700
Micro USB Car Charger for BlackBerry Bold 9700
A durable, CE certified car charger for all your mobile charging needs while on the move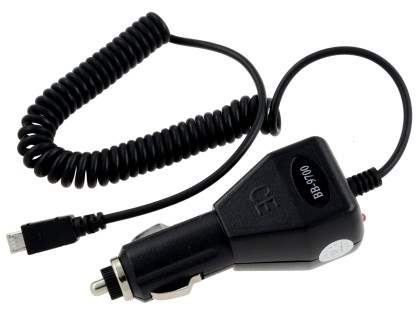 Driving doesn't have to mean being deprived.
With this in-car charger, your mobile will always be charged and ready to use at a moment's notice.
Just plug it into your car's cigarette socket, attach your phone and relax with the peace of mind that comes with knowing that your phone will always be available, including for emergencies. Convenience and safety have never been so affordable!
This accessory is particularly suited for long journeys or workers who are constantly on the move.

Features:
Compact and light-weight
Short-circuit protection
Input voltage DC 12v-24v
Fuse-protected
LED power indicator
Tangle-proof cable
I.C. controlled charging
Rapid charging time
BlackBerry Priv, BlackBerry Classic, BlackBerry Q20, BlackBerry Classic Q20, BlackBerry Z30, BlackBerry Torch 9810, Storm 9500, 9530, Curve 8900, Bold 9700, Storm2 9550, Curve 8520, Curve 9300, Torch 9800, Bold 9780, 9900, Bold 9900, BlackBerry Bold 9900, BlackBerry Dakota, BlackBerry Magnum, BlackBerry Bold 9930, Torch 9860, Torch 9850, Curve 9360, BlackBerry Curve 9360, BlackBerry 9360, BlackBerry Curve Apollo, BlackBerry Curve 9320, BlackBerry Z10, BlackBerry Q10
Customer Satisfaction Guarantee
Mobile-Mate is determined to ensure customer satisfaction at all times, so any purchase you make is backed by a total satisfaction money-back guarantee. If you are unsatisfied with your product within three months after purchase, simply email us and an exchange or refund can be arranged.