Universal Finger-Touch Dual Stylus & Pen - Jungle Green
Universal Finger-Touch Dual Stylus & Pen - Jungle Green
Get the best of both worlds with an efficient finger-touch stylus and real black-ink pen fused into one great accessory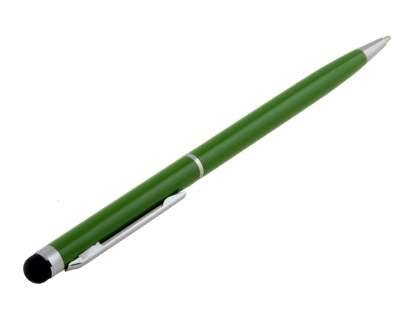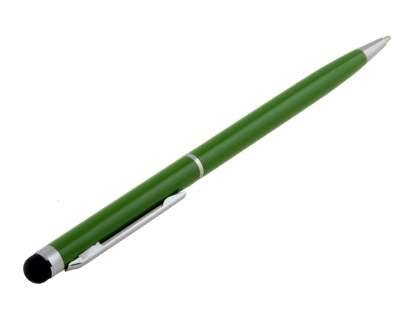 Select a Colour
Enhance your productivity with this dual stylus and pen accessory. One end features a rounded, soft rubber tip that is specifically designed to efficiently activate finger-touch touchscreens, that is, touchscreens that normally are only activated by the touch of a finger. The design is effective, yet gentle on the delicate surface of your smartphone & tablet's touchscreen, and avoids annoying fingerprints all over your screen. The other end of the accessory is a real black-ink pen, for those times when you really need to write and draw on real paper instead of your touchscreen. The pen tip is retractable by simply twisting the end of the accessory, so you don't get ink stains everywhere when the pen is not in use. With a thin, lightweight and sleek design, this dual stylus & pen accessory is an indispensable way to get more out your device, more easily & more efficiently, whether it's for casual or professional use.
Features:
Dual stylus and pen accessory for extra convenience and productivity
Stylus end features soft, rounded tip for use with finger-touch screens
Efficient yet gentle activation of your delicate touchscreen
Helps avoid annoying fingerprints on your touchscreen
Pen end features a real black-ink pen
Retractable pen tip with in-built twisting mechanism
Thin, lightweight & sleek design
Microsoft Lumia 435, Microsoft Lumia 435 Dual SIM
Microsoft Lumia 532, Nokia Lumia 532 Dual SIM
Microsoft Lumia 550
Microsoft Lumia 640 LTE, Microsoft Lumia 640 Dual SIM, Microsoft Lumia 640 LTE Dual SIM
Microsoft Lumia 640 XL LTE Dual SIM, Microsoft Lumia 640 XL LTE, Microsoft Lumia 640 XL Dual SIM
Microsoft Lumia 650
Microsoft Lumia 950, Microsoft Lumia 950 Dual SIM
Microsoft Lumia 950 XL
Nokia 700
Nokia C6-01
Nokia C7
Nokia E6, E6-00
Nokia E7
Nokia Lumia 1020, Nokia EOS, Nokia 909
Nokia Lumia 1320
Nokia Lumia 1520
Nokia Lumia 2520
Nokia Lumia 520
Nokia Lumia 530, Nokia Lumia 530 Dual SIM
Nokia Lumia 610
Nokia Lumia 620
Nokia Lumia 625
Nokia Lumia 630
Nokia Lumia 635
Nokia Lumia 636
Nokia Lumia 710
Nokia Lumia 720
Nokia Lumia 735, Nokia Lumia 730 Dual SIM
Nokia Lumia 800, Nokia Sea Ray, Nokia 800c, Nokia Lumia 800c
Nokia Lumia 810
Nokia Lumia 820
Nokia Lumia 830
Nokia Lumia 900
Nokia Lumia 920
Nokia Lumia 925
Nokia Lumia 930
Nokia N8
Nokia N9
Nokia X7, X7-00
Customer Satisfaction Guarantee
Mobile-Mate is determined to ensure customer satisfaction at all times, so any purchase you make is backed by a total satisfaction money-back guarantee. If you are unsatisfied with your product within three months after purchase, simply email us and an exchange or refund can be arranged.