Genuine Leather Slide-in Case for HTC Sensation XL - Hot Pink
Genuine Leather Slide-in Case for HTC Sensation XL - Hot Pink
A genuine leather slide-in case that's simple, elegant and practical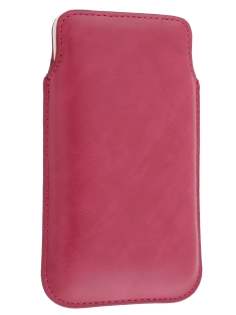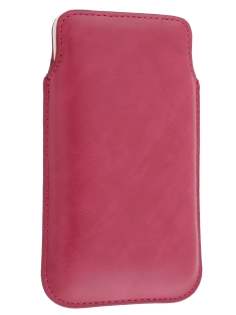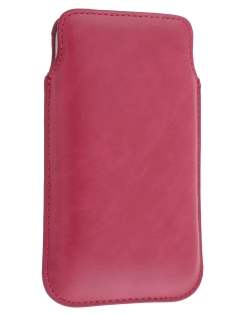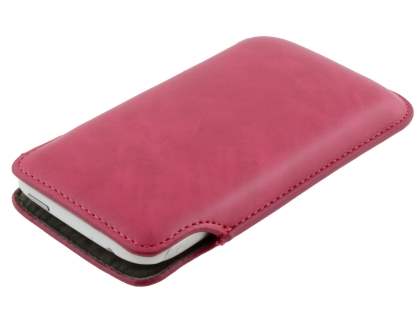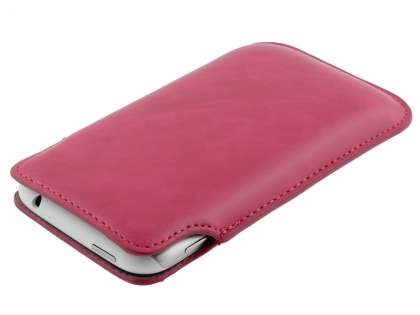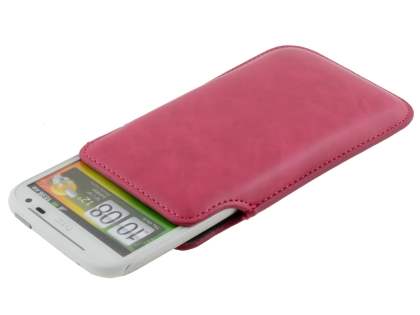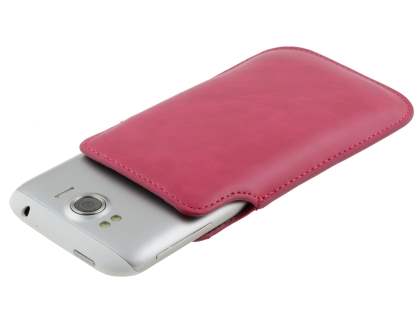 This elegant genuine leather slide-in case for the
HTC Sensation XL
provide the protection your phone needs against the perils of everyday use.
It has a simple design that's easy to use: when needed, you simply pull the phone out of the case, and once finished, slide the phone back into the case for almost completely encompassing protection.
The smooth surface of the case enables a comfortable grip in your hand, and the interior is padded and lined with microfibre for extra inbuilt safety that is gentle on your phone's delicate surface and still maintains a relatively slim profile.
This case is available in a range of colours to suit your style, and as a finishing touch, features high-quality stitching that is both visually pleasing and structurally sound.
This case is particularly good at protecting your HTC Sensation XL when you need to put it somewhere where it may get crushed or scratched by other items - handbags, pockets and overalls.
It's perfect for those who want a bit of extra peace of mind when travelling with their phone.
Features:
Genuine leather slide-in case that helps protect your HTC Sensation XL from everyday scratches and scuffs
Padded interior with microfibre lining
Smooth surface for a comfortable grip
Covers most of the phone's edges for even more protection
High-quality stitching

Great for protecting your HTC Sensation XL in bags, pockets and other enclosed spaces
Available in a range of colours

Please Note:
This case is for a user who wants to place a 'naked' HTC Sensation XL into the case (i.e. a phone without another case already fitted onto it).
Samsung Devices
Samsung Galaxy S3 I9305, I9300
Samsung Galaxy S4 GT-I9500, GT-I9505, GT-I9506, GT-I9507, Galaxy S4 I9502 Dual SIM
Microsoft Devices
Nokia Lumia 920
Nokia Devices
Nokia Lumia 920
Sony Devices
Sony Xperia S LT26i, Sony Ericsson Xperia Nozomi, Sony Ericsson Arc HD
Sony Xperia TX LT29i
Sony Xperia ion HSPA, Xperia ion LT28h
Sony Xperia ion LTE LT28at, LT28i
LG Devices
LG Nexus 4 E960, LG Google Nexus 4 E960, Google Nexus 4 LG E960
HTC Devices
HTC sensation XL X315e, HTC Runnymede
Motorola Devices
Motorola RAZR HD XT925, XT926, Motorola DROID RAZR HD
Google Devices
LG Nexus 4 E960, LG Google Nexus 4 E960, Google Nexus 4 LG E960
Customer Satisfaction Guarantee
Mobile-Mate is determined to ensure customer satisfaction at all times, so any purchase you make is backed by a total satisfaction money-back guarantee. If you are unsatisfied with your product within three months after purchase, simply email us and an exchange or refund can be arranged.