Synthetic Leather Smart Case with Multi-Angle Tilt Stand for Samsung Google Nexus 10 - Pink
Synthetic Leather Smart Case with Multi-Angle Tilt Stand for Samsung Google Nexus 10 - Pink
A slimmer, stronger case with a unique built-in multi-angle stand and elegant design features including a handstrap.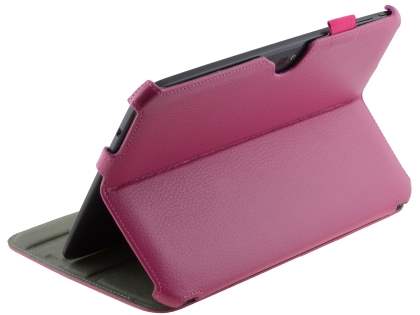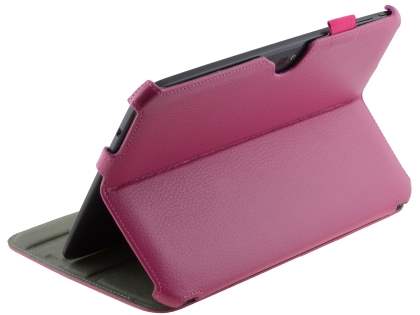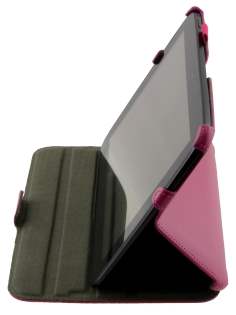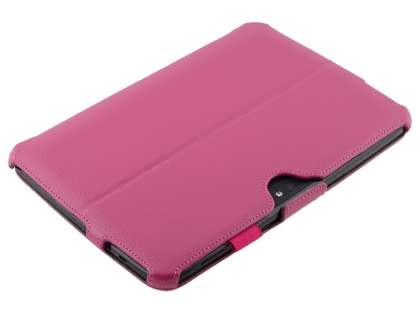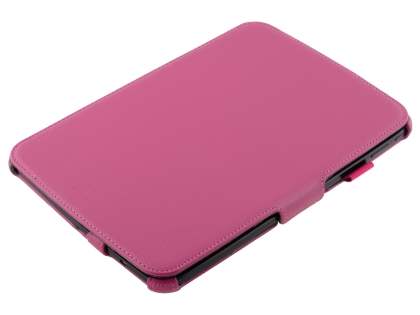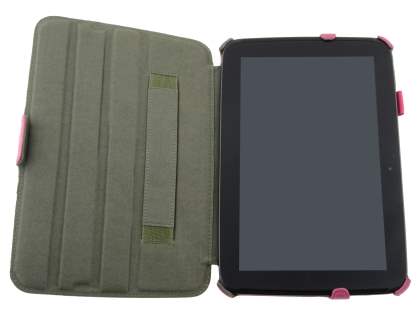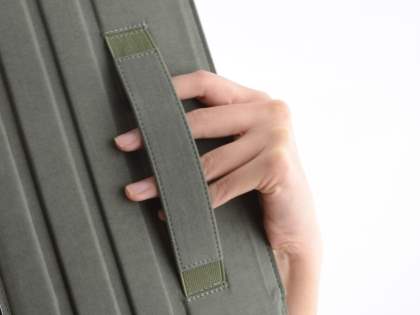 Select a Colour
Finally, a premium quality case with an innovative built-in stand that allows you to easily convert your Samsung Google Nexus 10 into the perfect viewing experience at home or on the go.
Using a unique design that doesn't require any unstable or fragile plastic stands or arms, this ingenious case features an elegantly designed in-built stand mechanism that allows you to view your Nexus without having to hold it up with both hands, strain your neck to look down, or hold it in the crook of your arm during use.
The front flap intuitively and easily acts as a base for the stand while the back flap with the Nexus attached bends forward at three different angles to create a stable stand, no clips or buttons required.
When folded back the front flap also features an elasticated handstrap which grips the hand firmly and comfortably, freeing the other hand and making use of the Nexus even easier.
The case itself is crafted using a special technique that fuses strong synthetic leather onto the case, giving it a super-slim profile as well as the ability to help protect against scratches, dust and oily fingerprints. It has the kind of elegant, stylish design you expect from a premium quality case.
The Nexus easily and securely clips into the back flap, doing away with the need for a slide-in frame, and maximising the aesthetic appeal and visibility of your stylish Nexus.
The front flap securely clips onto the Nexus when it's not in use, and there is full access to all controls, sockets and the camera.
There's even a microfibre lining on the inside for extra protection and comfort.
With a slim, sleek and lightweight design, this premium quality case is for those who want style, convenience & protection all fused into one.
Features:
Special multi-angle built-in stand that is superior in stability and convenience to other stand cases
Smart magnetically aligns with the device: Wakes on open. Sleeps on close

Elegant and easy to use 3 way stand mechanism

No flimsy or awkward plastic stands used
Strong clips that keep your Google Nexus 10 securely attached to the case at all times, without encroaching too much on the look of your Nexus

Tough synthetic leather exterior lining that's moulded onto the case frame using a special manufacturing technique
Smooth inner microfibre lining

Reliable protection against shocks, scratches, dust particles and oily fingerprints
Full access to all controls, sockets and the camera
An Elasticated handstrap, allowing secure and stable one-handed use

Samsung Devices
Samsung Google Nexus 10 P8110
Google Devices
Samsung Google Nexus 10 P8110
Customer Satisfaction Guarantee
Mobile-Mate is determined to ensure customer satisfaction at all times, so any purchase you make is backed by a total satisfaction money-back guarantee. If you are unsatisfied with your product within three months after purchase, simply email us and an exchange or refund can be arranged.