Textured Synthetic Leather Vertical Belt Pouch - Naked Mobile Only
Textured Synthetic Leather Vertical Belt Pouch - Naked Mobile Only
Take your mobile anywhere with this strong & elegant leather belt pouch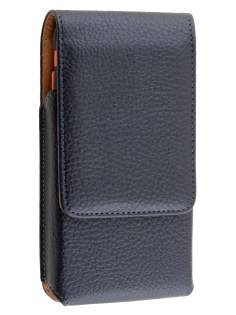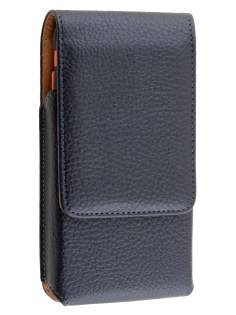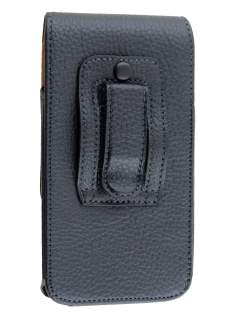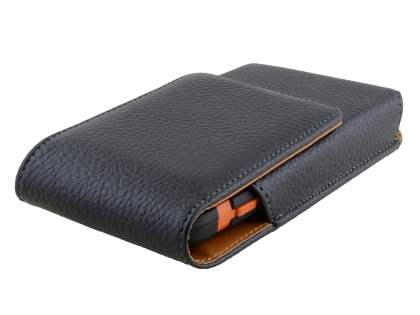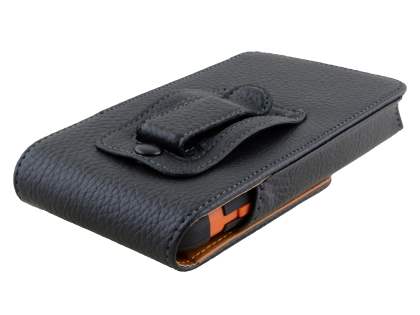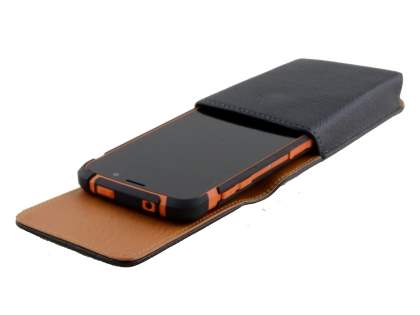 This premium quality Synthetic Leather belt pouch is the ultimate fusion of class, strength and practicality.
A classic black Synthetic Leather exterior keeps your mobile protected from scratches and impacts on all sides. While the gentle microfibre lining will protect the surface of your mobile.
It's been carefully designed to provide the optimum fit while being easy to access when needed.
A strong and simple to use belt clip allows you to attach the pouch to your belt and take it wherever you need to go, without needing to bother with bags or pockets.
With a Synthetic Leather belt pouch, you can be confident that your mobile is in safe and reliable hands, wherever you're going.
Features:
Strong Synthetic Leather exterior provides high-quality protection
Microfibre lining to protect your delicate mobile
Magnetic closure to keep your mobile secure within the pouch

Crafted to provide an optimum fit, while still allowing easy access
Belt clip that allows you to take it anywhere
Compatible with a naked mobile only
Samsung Devices
Samsung Galaxy A5 SM-500F, SM-A500F1, SM-A500FQ, SM-A500FU, SM-A500H, SM-A500HQ, SM-A500K, SM-A500L, SM-A500M, SM-A500S, SM-A500X, SM-A500XZ, SM-A500Y, SM-A500YZ, Samsung Galaxy A5 Duos
Samsung Galaxy J3 (2016) J320F, J320A, J320P, J320M, J320Y, J3109, Galaxy J3 (2016) Duos with dual-SIM card slots
Samsung Galaxy J5 Prime, Samsung Galaxy On5 (2016), G570, G570F, DS (EMEA), G570Y (Australia)
Samsung Galaxy S5 I9600, GS 5, Galaxy S5 Duos SM-G900FD, Galaxy S5 SM-G900F, SM-G900I, SM-G900K, SM-G900L, SM-G900S, SM-G900M, SM-G900A, SM-G900T, SM-G900W8
Samsung Galaxy S6 I9800, Galaxy S6 SM-G920, SM-G920I, SM-G9200, SM-G9208, SM-G9208, SM-G9209, SM-G920A, SM-G920F, SM-G920FD, SM-G920S, SM-G920T
Samsung Galaxy S6 edge SM-G925, SM-G925I, SM-G9250, SM-G925A, SM-G925F, SM-G925FQ, SM-G925K, SM-G925L, SM-G925S, SM-G925T
Microsoft Devices
Microsoft Lumia 550
Microsoft Lumia 640, Microsoft Lumia 640 Dual SIM, Microsoft Lumia 640 LTE Dual SIM
LG Devices
Telstra Signature Enhanced, LG X screen K500K, K500N, K500DS
Motorola Devices
Motorola Moto G 3rd gen, Motorola Moto G3, Motorola Moto G Turbo Edition XT1557, Motorola Moto G Dual SIM 3rd gen XT1550
Huawei Devices
Huawei P8
Huawei P8Lite, Huawei P8 Lite
Huawei Y5, Y560
Huawei Y625
Google Devices
Google Pixel 5.0 inches
ZTE Devices
Telstra Tough Max, ZTE T84
Blade V6
ZTE Blitz, ZTE Blade V0720, ZTE Blade V7 Lite
Telstra Devices
Telstra Signature Enhanced, LG X screen K500K, K500N, K500DS
Telstra Tough Max, ZTE T84
Optus Devices
ZTE Blitz, ZTE Blade V0720, ZTE Blade V7 Lite
Customer Satisfaction Guarantee
Mobile-Mate is determined to ensure customer satisfaction at all times, so any purchase you make is backed by a total satisfaction money-back guarantee. If you are unsatisfied with your product within three months after purchase, simply email us and an exchange or refund can be arranged.