Huawei Micro USB OTG Adaptor Cable - White
Huawei Micro USB OTG Adaptor Cable - White
This Huawei Micro USB OTG Adaptor Cable adapts USB devices to your Huawei devices and exchange data without a computer.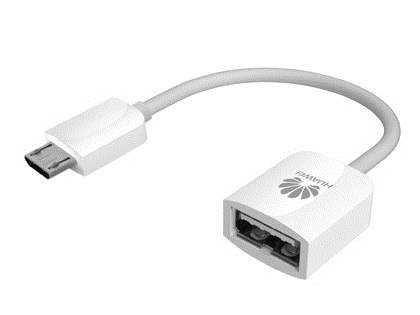 This Huawei Micro-USB OTG Adaptor Cable acts as an affordable replacement for the cable that comes with the phone. It is light weight, high quality and easy to use.

Simply attach a male USB plug in the USB socket and plug the other end into your compatible devices. Then you can connect to other phones, computers and other devices without the need for a Computer.
The USB device will be identified immediately in most cases and both the plug and socket will fit well as they are specifically designed for the product and purpose. Unlike other cheap replicas, this is carefully made not to twist out or break when you pull the plug.

Other devices you may be able to use include keyboards, mice, hubs, joysticks, card readers and flash drives. It comes in handy when you want to reply to a large number of emails but don't want to tire out your thumbs.
This is a versatile must-have item.

Features:
Compact and light-weight
Cable type: Micro USB OTG cable

Cable length: approx. 10 cm
Allow you to connect to most USB Flash Drive, Mouse, Keyboard and some digital cameras etc.
Cable is fully shielded to avoid interference and increase stability.
Samsung Devices
Samsung Galaxy J8 (2018), Samsung Galaxy A6 Plus (2018)
Samsung Galaxy J2 Pro (2018), Samsung Galaxy J2 (2018), Samsung Galaxy Grand Prime Pro
Samsung Galaxy J3 (2016) J320F, J320A, J320P, J320M, J320Y, J3109, Galaxy J3 (2016) Duos with dual-SIM card slots
Samsung Galaxy J5 Prime, Samsung Galaxy On5 (2016), G570, G570F, DS (EMEA), G570Y (Australia)
Samsung Galaxy J7 Prime, Samsung Galaxy On Nxt
Samsung Galaxy J7 Pro
Samsung Galaxy K zoom SM-C111, LTE SM-C115, Galaxy S5 zoom
Samsung Galaxy Mega 6.3 I9200, SGH-i527
Samsung Galaxy Note 10.1 2014 Edition SM-P600, SM-P601 3G, SM-P605 3G+LTE
Samsung Galaxy Note 2 N7100, N7105, N7105
Samsung Galaxy Note 4 SM-N910G, SM-N910F, SM-N910K, SM-N910L, SM-N910S, SM-N910C, SM-N910FD, SM-N910FQ, SM-N910H, SM-N910U, SM-N910W8
Samsung Galaxy Note 5 SM-N920T, SM-N920A, N920I
Samsung Galaxy Note 8.0 N5100, N5110, N5120, Galaxy Note 510, 511, Galaxy Note 8 3G
Samsung Galaxy Note Edge SM-N9150, SM-N915G, SM-N915FY, SM-N915A, SM-N915T, SM-N915K, SM-N915L, SM-N915S, SM-N915D
Samsung Galaxy S3 I9305, I9300
Samsung Galaxy S2 4G GT-I9210T, Galaxy S2 LTE I9210
Samsung Galaxy S2 I9100
Samsung Galaxy S4 GT-I9500, GT-I9505, GT-I9506, GT-I9507, Galaxy S4 I9502 Dual SIM
Samsung Galaxy S4 zoom SM-C1010, SM-C101, SM-C105
Samsung Galaxy S6 I9800, Galaxy S6 SM-G920, SM-G920I, SM-G9200, SM-G9208, SM-G9208, SM-G9209, SM-G920A, SM-G920F, SM-G920FD, SM-G920S, SM-G920T
Samsung Galaxy S6 Edge Plus, Galaxy S6 Edge+, SM-G928T, SM-G928A, SM-G928I
Samsung Galaxy S6 edge SM-G925, SM-G925I, SM-G9250, SM-G925A, SM-G925F, SM-G925FQ, SM-G925K, SM-G925L, SM-G925S, SM-G925T
Samsung Galaxy S7 G930, G930F, G930FD, Galaxy S7 Duos
Samsung Galaxy S7 edge, Galaxy S7 edge Duos, G935F
Samsung Galaxy Tab 3 10.1 P5200, P5210, P5220
Samsung Galaxy Tab 3 8.0 SM-T310, SM-T311, SM-T315
Samsung Galaxy Tab Pro 10.1 SM-T520, SM-T525
Samsung Galaxy Tab Pro 8.4 SM-T320, SM-T321, SM-T325
Samsung Galaxy Tab S 8.4 LTE, Galaxy Tab S 8.4 4G
Samsung Galaxy S4 Active I9295, I537
Sony Devices
Sony Ericsson Xperia Arc S LT18i, LT18a
Sony Ericsson Xperia neo MT15i, MT15a, Xperia Kyno, Xperia Halon, Xperia Hallon
Sony Ericsson Xperia Play 4G
Sony Ericsson Xperia neo V MT11i, MT11a
Sony Ericsson Vivaz U5i
Sony Xperia J ST26i, ST26a
Sony Xperia M C1904, C1905, Sony Xperia M Dual C2004, C2005
Sony Xperia M2
Sony Xperia P LT22i, Sony LT22i Nypon
Sony Xperia S LT26i, Sony Ericsson Xperia Nozomi, Sony Ericsson Arc HD
Sony Xperia Sola MT27i, MT27i Pepper
Sony Xperia T2 Ultra, Sony Xperia T2 Ultra Dual SIM D5322, XM50h
Sony Xperia TX LT29i
Sony Xperia U LT25i, ST25i, Sony Ericsson ST25i Kumquat
Sony Xperia X F5121, F5122
Sony Xperia X Performance
Sony Xperia XA F3111, F3113, F3115, Xperia XA Dual F3112, F3116
Sony Xperia Z C6603, C6602, Sony Xperia Z HSPA+, Sony Xperia Z L36h
Sony Xperia Z Ultra HSPA+ C6802, Sony Xperia Z Ultra LTE C6806, C6833
Sony Xperia Z1 C6902, C6903, C6906, C6943, L39h, Sony Xperia Z1 Honami
Sony Xperia Z1 Compact D5503
Sony Xperia Z2 D6503, D6543, D6502
Sony Xperia Z3 D6653, D6603, D6643, D6616, Sony Xperia Z3 Dual D6633
Sony Xperia Z3 Compact D5803, D5833, Sony Z3 mini
Sony Xperia Z3 Tablet Compact
Sony Xperia Z5 E6603, E6653, Sony Xperia Z5 Dual E6633, E6683
Sony Xperia Z5 Compact
Sony Xperia Z5 Premium
Sony Xperia acro S LT26w, Sony LT26w Xperia acro S
Sony Xperia go ST27i, Xperia advance, Sony ST27i Xperia go, Sony ST27a
Sony Xperia ion HSPA, Xperia ion LT28h
Sony Xperia ion LTE LT28at, LT28i
LG Devices
LG Nexus 5, LG Google Nexus 5
HTC Devices
HTC Desire 601, HTC Zara
HTC Desire 820
HTC One M7 801e, 801s
HTC One M8
HTC One M8s
HTC One M9
HTC One mini 2
Motorola Devices
Motorola Google Nexus 6
Motorola Moto C
Motorola Moto E (2nd gen)
Motorola Moto E4 XT1766, XT1763, XT1769
Motorola Moto G XT1039, XT1032, XT1033 Dual SIM
Motorola Moto G 2014 edition, Motorola Moto G 2nd Gen XT1068, Motorola Moto G2, Motorola Moto G Dual SIM 2014, Motorola Moto G (2nd Gen.) Dual SIM, Motorola Moto G2 Dual SIM
Motorola Moto G 3rd gen, Motorola Moto G3, Motorola Moto G Turbo Edition XT1557, Motorola Moto G Dual SIM 3rd gen XT1550
Motorola Moto G4
Motorola Moto G4 Plus
Motorola Moto X
Huawei Devices
Huawei G7 Plus, Huawei RIO-L02
Huawei GR3
Huawei GR5 2017, Huawei Mate 9 Lite, Huawei Honor 6X
Huawei Mate 8, Huawei Ascend Mate8, Huawei NXT-L09, Huawei NXT-L29
Huawei Nova 3i, Huawei P Smart+
Huawei P8
Huawei Y7
Google Devices
LG Nexus 5, LG Google Nexus 5
Motorola Google Nexus 6
OPPO Devices
OPPO AX5
OPPO AX7, OPPO A7
OPPO F1
OPPO R15 Pro
OPPO R17
OPPO R7s
Oppo A3s
Oppo A57, Oppo A39
Oppo A73, Oppo F5 Youth
Oppo A77
Oppo A5s, AX5s
Oppo F1s, Oppo A59
Oppo R11
Oppo R11s
Oppo R11s Plus
Oppo R15
Oppo R9 4G
Oppo R9s Plus
Blackberry Devices
BlackBerry Z30
ZTE Devices
ZTE Blade V Plus
Telstra Devices
Samsung Galaxy S2 4G GT-I9210T, Galaxy S2 LTE I9210
Customer Satisfaction Guarantee
Mobile-Mate is determined to ensure customer satisfaction at all times, so any purchase you make is backed by a total satisfaction money-back guarantee. If you are unsatisfied with your product within three months after purchase, simply email us and an exchange or refund can be arranged.