Genuine Motorola Micro USB AC Charger
Genuine Motorola Micro USB AC Charger
A genuine Motorola charger makes sure that your phone is always fully charged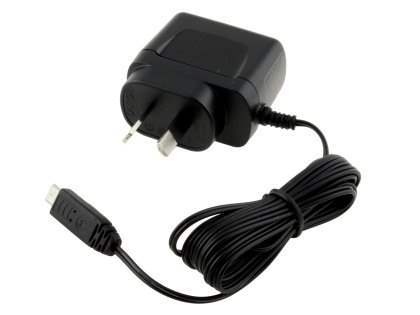 This genuine Motorola micro-USB charger is the superior quality charger you've been looking for.
With an output of 1200mA, it's just what you need to keep your phone prepared for your busy life. Perfect for work, travel or as a replacement for your original charger, this Motorola genuine micro-USB charger comes with the quality you expect and deserve from a Motorola original charger.
Features:
Input: AC 100-240V/50-60Hz/160mA
Output: 5.0V/1200mA
Motorola DEFY XT535
Motorola ATRIX 2 MB865, Motorola MB865 ATRIX 2, MOTO ATRIX 2 MB865, MOTO MB865 ATRIX 2, Motorola Atrix Refresh, Motorola Fuath, Motorola Edison, Motorola 4G ATRIX 2
Motorola ATRIX MB860, Motorola ATRIX 4G MB860, Motorola MB860 ATRIX 4G, MOTO ATRIX, MOTO ATRIX 4G MB860, MOTO MB860 ATRIX 4G
Motorola DEFY MB525, Motorola MB525 DEFY, MOTO DEFY MB525, MOTO MB525 DEFY
Motorola DEFY+ MB526, Motorola DEFY Plus MB526, Motorola MB526 DEFY+, Motorola MB526 DEFY Plus, MOTO DEFY+ MB526, MOTO DEFY Plus MB526, MOTO MB526 DEFY+, MOTO MB526 DEFY Plus
Motorola Defy Mini XT320, Motorola XT320 Defy Mini, MOTO Defy Mini XT320, MOTO XT320 Defy Mini
Motorola Google Nexus 6
Motorola Moto E 1st Gen Dual SIM, XT1022, XT1025, XT1021, Motorola Moto E 1st Gen
Motorola Moto E (2nd gen)
Motorola Moto G 4G XT1039, Motorola Moto G LTE XT1039, Motorola Moto G XT1032, Motorola Moto G XT1033 Dual SIM, Motorola Moto G X1032, Motorola Moto G X1033 Dual SIM
Motorola Moto G 2014 edition, Motorola Moto G 2nd Gen XT1068, Motorola Moto G2, Motorola Moto G Dual SIM 2014, Motorola Moto G (2nd Gen.) Dual SIM, Motorola Moto G2 Dual SIM
Motorola Moto G 3rd gen
Motorola Moto G4
Motorola Moto X
Motorola Moto X Play
Motorola Moto X Style
Motorola RAZR XT910, Motorola DROID RAZR XT912, Motorola DROID HD
Motorola RAZR HD 4G XT925, Motorola RAZR HD XT925, Motorola RAZR HD XT926, Motorola DROID RAZR HD
Motorola RAZR M XT905, Motorola RAZR M 4G, Motorola RAZR M 4G XT907, Motorola RAZR M XT907, Motorola DROID RAZR M
RAZR V MT887
Motorola RAZR V XT885
Motorola XOOM 2 10.1
Customer Satisfaction Guarantee
Mobile-Mate is determined to ensure customer satisfaction at all times, so any purchase you make is backed by a total satisfaction money-back guarantee. If you are unsatisfied with your product within three months after purchase, simply email us and an exchange or refund can be arranged.