Genuine Nokia Micro USB AC Charger
Genuine Nokia Micro USB AC Charger
A genuine Nokia charger makes sure that your phone is always fully charged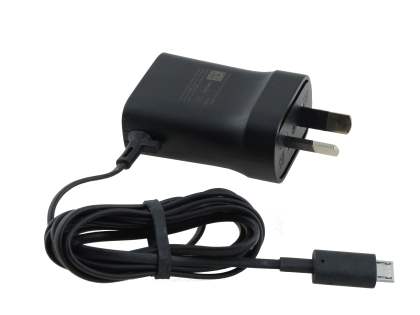 This genuine Nokia micro-USB charger is the superior quality charger you've been looking for.
With an output of 750mA, it's just what you need to keep your phone prepared for your busy life. Perfect for work, travel or as a replacement for your original charger, this Nokia genuine micro-USB charger comes with the quality you expect and deserve from a Nokia original charger.
Features:
Input: AC 100-240V/50-60Hz/120mA
Output: 5.0V/750mA
Microsoft Lumia 435, Microsoft Lumia 435 Dual SIM
Microsoft Lumia 532, Microsoft Lumia 532 Dual SIM
Microsoft Lumia 550
Microsoft Lumia 640, Microsoft Lumia 640 Dual SIM, Microsoft Lumia 640 LTE Dual SIM
Microsoft Lumia 640 XL, Microsoft Lumia 640 XL Dual SIM, Microsoft Lumia 640 XL LTE Dual SIM
Microsoft Lumia 650
Nokia 208 Dual SIM
Nokia 220
Nokia 301, 3010
Nokia 700
Nokia Asha 210, Nokia Asha 210 Dual Sim
Nokia Asha 230
Nokia Asha 300
Nokia Asha 303
Nokia Asha 311, 3110, Nokia Asha Charme 311
Nokia E7
Nokia Lumia 1020, Nokia EOS, Nokia 909
Nokia Lumia 1320
Nokia Lumia 1520
Nokia Lumia 520
Nokia Lumia 530, Nokia Lumia 530 Dual SIM
Nokia Lumia 610
Nokia Lumia 620
Nokia Lumia 625
Nokia Lumia 630
Nokia Lumia 635
Nokia Lumia 636
Nokia Lumia 710
Nokia Lumia 720
Nokia Lumia 735, Nokia Lumia 730 Dual SIM
Nokia Lumia 800, Nokia Sea Ray, Nokia 800c, Nokia Lumia 800c
Nokia Lumia 810
Nokia Lumia 820
Nokia Lumia 830
Nokia Lumia 900
Nokia Lumia 920
Nokia Lumia 925
Nokia Lumia 930
Nokia N8
Nokia N9
Nokia X6
Customer Satisfaction Guarantee
Mobile-Mate is determined to ensure customer satisfaction at all times, so any purchase you make is backed by a total satisfaction money-back guarantee. If you are unsatisfied with your product within three months after purchase, simply email us and an exchange or refund can be arranged.