Genuine LG Micro USB AC Travel Charger
Genuine LG Micro USB AC Travel Charger
A genuine LG charger makes sure that your phone is always fully charged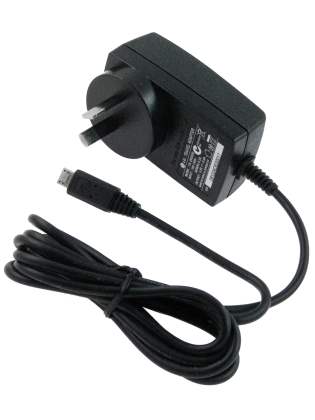 This genuine LG micro-USB charger is the superior quality charger you've been looking for.
With an output of 800mA, it's just what you need to keep your phone prepared for your busy life. Perfect for work, travel or as a replacement for your original charger, this LG genuine micro-USB charger comes with the quality you expect and deserve from an LG original charger.
Features:
Input: 100-240V/50-60Hz/0.2A
Output: 4.6V/0.8A
Length of the cable 1.7m.
LG Devices
LG F70 D315
LG G2 D802, D802TA, D803, VS980
LG G3, D855, D851, D850, VS985, LS990
LG G4, H815, H815TR, H815T, H815P, H812, H810, H811, LS991, VS986, US991
LG GS290 Cookie Fresh
LG GT540 Optimus, LG GT540f Optimus
LG Nexus 5, LG Google Nexus 5
LG L Fino D295F, D290N, D295
LG L20
LG L70 D320N, D320, LG L70 Dual D325
LG L80, LG L80 Dual SIM
LG Leon
LG Nexus 4 E960, LG Google Nexus 4 E960, Google Nexus 4 LG E960
LG Optimus 2X P990 Star, LG P990 Optimus Speed, LG Optimus 2X P990, P993
LG Optimus 3D P920
LG E900 Optimus 7
LG Optimus Black P970, LG P970 Optimus Black
LG Optimus F3, LS720, P655K
LG Optimus F5 P875
LG Optimus G E975K, E975, E973, E971, LG-F180
LG Optimus G Pro E985, E980, E986, F240
LG Optimus L2 E405
LG Optimus L3 E400, LG E400 Optimus L3, LG L3 E400 Optimus
LG Optimus L3 II Dual E435
LG Optimus L3 II E430, E425, E425F
LG Optimus L5 E610, E612
LG Optimus L5 II E460, E450, E450F
LG Optimus L7 II Dual P715, P716, LG Optimus Duet+
LG Optimus L7 II P710, P713, LG Optimus L7X P714
LG Optimus L7 P700, P705
LG Optimus Me P350
LG Optimus One P500
LG Optimus Spirit P690, LG Optimus Net P699, LG Optimus Link P690
LG Prada 3.0, LG Prada K2, LG P940
LG Spirit 4G LTE H440N, LG Spirit H420
LG Stylus DAB+, LG Stylus DAB Plus, LG Stylus 2
LG Wink 3G T320, LG T320
LG Optimus L9 P760, P768
Telstra Signature Enhanced, LG X screen K500K, K500N, K500DS
Google Devices
LG Nexus 5, LG Google Nexus 5
LG Nexus 4 E960, LG Google Nexus 4 E960, Google Nexus 4 LG E960
Customer Satisfaction Guarantee
Mobile-Mate is determined to ensure customer satisfaction at all times, so any purchase you make is backed by a total satisfaction money-back guarantee. If you are unsatisfied with your product within three months after purchase, simply email us and an exchange or refund can be arranged.