Genuine Apple 12W USB Power Adapter
Genuine Apple 12W USB Power Adapter
A genuine Apple 12W USB Power Adapter for your iPhone, iPad or iPod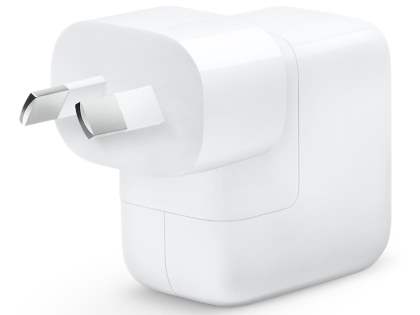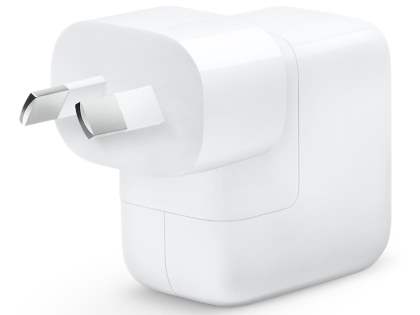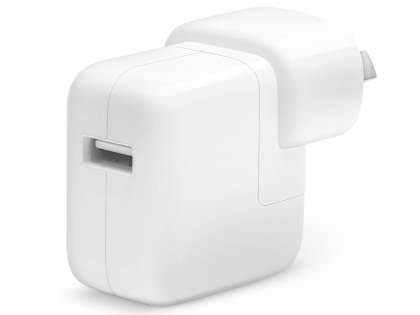 This genuine Apple iPhone, iPad or iPod charger has exactly the sort of elegant style and functional design that Apple does so well.

It is identical to the iPhone charger, but with a larger power output, so your iPhone, iPad or iPod charges more quickly than it does with the iPhone charger, so you can get back to using your iPhone, iPad or iPod faster.

The wall charger component fits into standard Australian wall sockets, while the white colour and contoured edges give it that characteristic appealing unintrusive look to the charger.
If you want genuine Apple quality and design features, then you can't go past this iPhone, iPad or iPod charger adapter.

Features:
Genuine Apple iPhone, iPad or iPod charger
Greater power output than an iPhone charger for faster charging and more convenience

Characteristic elegant design
Input: 100-240V 50-60Hz 0.5A
Output: 5.2V 2.4A
Not in retail packaging

Apple iPad 9.7 (2018), Apple iPad 9.7 (2018), A1893, A1954
iPad 1st Gen, A1219, A1337
iPad 2, A1395, A1396, A1397
iPad 3, A1416, A1430, A1403
iPad 4, iPad (4th generation), A1458, A1459, A1460
Apple iPad 7th Gen, Apple iPad 7th generation, Apple iPad 10.2 A2197 A2198 A2200 A2232
iPad 9.7 2017, iPad (5th generation), A1822, A1823
iPad Air 1st Gen A1474, A1475, A1476, iPad 5
iPad Air 2 A1566, A1567, iPad 6
Apple iPad Pro 10.5, A1701, A1709, A1852
Apple iPad Pro 11, A1980, A2013, A1934, A1979
Apple iPad Pro 11 (2020), iPad Pro 11 inch (2nd Gen), A2068, A2230
iPad Pro 12.9 A1584, A1652
iPad Pro 12.9 (2017), iPad Pro 12.9-inch (2nd generation) A1670, A1671
Apple iPad Pro 12.9 (2018), A1876, A2014, A1895
Apple iPad Pro 12.9 (2020), iPad Pro 12.9 inch (4th Gen), A2069, A2232
iPad Pro 9.7 A1673, A1674, A1675
iPad mini 1st Gen A1432, A1454, A1455
iPad mini 2 A1489, A1490
iPad mini 3 A1599, A1600
iPad mini 4 A1538, A1550
iPhone 11
iPhone 11 Pro
iPhone 11 Pro Max
iPhone 3G 3GS
iPhone 4
iPhone 4S
iPhone 5
iPhone 5c
iPhone 5s
iPhone 6
iPhone 6 Plus
iPhone 6s
iPhone 6s Plus
iPhone 7
iPhone 7 Plus
iPhone 8
iPhone 8 Plus
iPhone SE
Apple iPhone SE (2020)
Apple iPhone X
Apple iPhone XR
Apple iPhone Xs
Apple iPhone Xs Max
iPod Touch 4, iPod Touch4
iPod Touch 5, iPod Touch 5th Gen
iPod touch 7th Generation, iPod touch 7th 2019
iPod Touch 6, iPod touch 6th Gen, iPod Touch 6th Generation
Customer Satisfaction Guarantee
Mobile-Mate is determined to ensure customer satisfaction at all times, so any purchase you make is backed by a total satisfaction money-back guarantee. If you are unsatisfied with your product within three months after purchase, simply email us and an exchange or refund can be arranged.