Universal Sports Armband for Phones - Black/Green
Universal Sports Armband for Phones - Black/Green
Contructed of lightweight, durable and flexible neoprene material, this smartphone sports armband is essential for many sporting occasion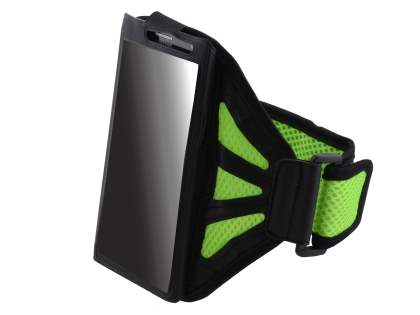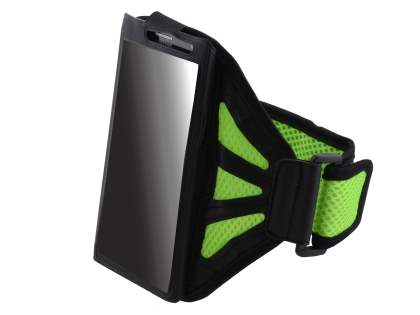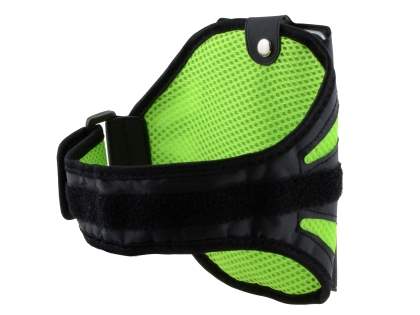 Select a Colour
Constructed of lightweight, durable and flexible neoprene material, this smartphone sports armband is essential for many sporting occasion. Padded for maximum comfort, the armband is extremely comfortable to wear, no matter the size and shape of your smartphone.
Designed for modern large screen smartphones, the crystal clear screen shield allows full touch screen utilisation.
Features:
Lightweight, durable and flexible neoprene construction

Fully adjustable armband

Designed for large screen smartphones
Incorporated earphone access socket

Apple Devices
iPhone 3G 3GS
iPhone 5
iPhone 5c
iPhone 5s
iPhone SE
HTC Devices
HTC 7 Mozart T8697, T8698
HTC 7 Trophy T8686
HTC Desire S S510e
HTC Desire VC T328d
HTC Google Nexus One
HTC One SV
HTC Windows Phone 8S
Samsung Devices
Samsung Galaxy Ace 2 I8160
Samsung Galaxy Ace 3 GT-S7270, GT-S7272, Galaxy Ace 3 LTE GT-S7275
Samsung Galaxy Ace Plus S7500
Samsung Galaxy Ace S5830
Samsung Galaxy S Duos S7562
Samsung Galaxy S3 mini I8190, I8190N
Samsung Galaxy S4 mini Duos I9192 Dual SIM with dual-SIM card slots
Samsung Galaxy W I8150, Galaxy Wonder
Samsung Galaxy S4 mini I9190, I9195
Samsung Galaxy S4 mini GT-I9195T
Samsung Omnia W I8350, I8350T
Samsung Wave S8500
Blackberry Devices
Blackberry Curve 9360, Curve Apollo
BlackBerry Torch 9860, 9850
Sony Devices
Sony Ericsson Xperia Arc S LT18i, LT18a
Sony Ericsson Xperia neo MT15i, MT15a, Xperia Kyno, Xperia Halon, Xperia Hallon
Sony Ericsson Xperia neo V MT11i, MT11a
Sony Xperia P LT22i, Sony LT22i Nypon
Sony Xperia Sola MT27i, MT27i Pepper
Sony Xperia U LT25i, ST25i, Sony Ericsson ST25i Kumquat
Sony Xperia go ST27i, Xperia advance, Sony ST27i Xperia go, Sony ST27a
Microsoft / Nokia Devices
Nokia C3
Nokia E6, E6-00
Nokia E63
Nokia E71
Nokia E72
Nokia Lumia 530, Nokia Lumia 530 Dual SIM
Nokia Lumia 610
Nokia Lumia 710
Nokia Lumia 800, Nokia Sea Ray, Nokia 800c, Nokia Lumia 800c
Nokia N9
Nokia X7, X7-00
LG Devices
LG Optimus Black P970, LG P970 Optimus Black
LG Optimus L5 II E460, E450, E450F
LG Optimus One P500
LG Optimus Spirit P690, LG Optimus Net P699, LG Optimus Link P690
Motorola Devices
Motorola DEFY MB525
Huawei Devices
Huawei Ascend Y210, Huawei Ascend Y210C, Huawei Ascend Y210D
Huawei Ascend Y300
Google Devices
HTC Google Nexus One
Telstra Devices
Samsung Galaxy S4 mini GT-I9195T
Customer Satisfaction Guarantee
Mobile-Mate is determined to ensure customer satisfaction at all times, so any purchase you make is backed by a total satisfaction money-back guarantee. If you are unsatisfied with your product within three months after purchase, simply email us and an exchange or refund can be arranged.